What Should I Consider When Getting Tinted Windows?
For many, tinted windows are best left to teenagers and those who would like to remain incognito. In truth, tinted windows serve a very important function in protecting you and your car from the damaging rays of the sun. The film used for tinted windows is a polyester substrate with a scratch resistant coating on one side and a clear mounting adhesive on the other. When having tinted windows installed, there are many factors to consider.
The concept of using window film for flat glass application was first introduced in the 1960s. Since that time, window tinting has become a huge market, with a wide range of colors and shades available. There are two basic types of tinted windows: metallic performance films, which provide a reflective surface, and the traditional non-reflective film. Tinted windows come in bronze, gray, gold, amber, and many other colors.
The benefits of tinted windows are huge. They block 65% of the sun's heat and a whopping 99.9% of damaging ultraviolet (UV) rays. Not only do they protect the interior and upholstery of the vehicle, but they also protect your eyes from glare and eyestrain and your skin from sun damage. Window film also makes your vehicle's glass safer by holding shattered glass in place.
When selecting the right window tint for you, you must first research what is legal in your locality. Every state in the United States has separate laws legislating window tinting. Many countries throughout the world have outlawed window tinting altogether in the interest of public safety. Most professional window tinting companies should be familiar with the law in your town and can provide you with a certificate of compliance in case you get pulled over. Fines for overly tinted windows can run anywhere from 50 to 500 US dollars (USD) if you are out of compliance.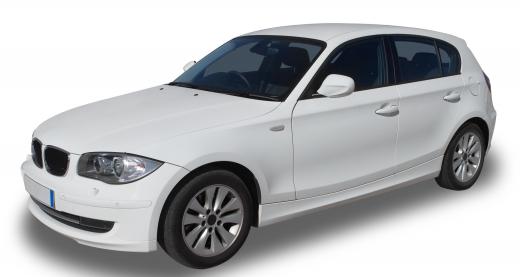 Some states allow tinting on every window in the vehicle, provided you have side mirrors, while others outlaw tinting the windshield and two front windows. The darkness of the tint is also legislated. This is measured by what is called visible light transmission (VLT%), defined as the percentage of visible light that makes it through the tint. Several states make exceptions for medical conditions which require heavy protection from the sun. Once you have determined what's legal, you can choose from a light tint to the darkest shade allowed.
For recreational vehicles (RVs), boats and cars with sensitive navigational equipment, a non-metallic film should be used, as metallic films can cause interference. Many states significantly reduce the level of reflection that is allowed in reflective films, or outlaw them altogether.
Most people agree that window tinting is best left to the professionals. It not only looks better, but will last longer and is guaranteed. A professional will make sure the tint job is legal and provide a warranty so that it can be fixed if anything goes wrong.
Although tinted windows can be done on your own, a professional will execute the job much better. They have the necessary tools and experience to get the job done right. Of course, you should check out the installer to see if his or her shop is professional and if he or she belongs to the International Window Film Association.
Windows are tinted through the following basic process. First, the window(s) must be properly cleaned and prepped to take the film. Then, the film is precisely cut to fit the window(s). Finally, the film is adhered to the window with mounting solution, then squeegeed smooth. You should end up with a clear window, free of "bubbles," with just the right amount of tinting. Tinted windows can be cleaned after 30 days to ensure proper bonding.
AS FEATURED ON:
AS FEATURED ON:






By: a

Sports car with tinted windows.

By: Giuseppe Porzani

Some states allow tinting on all windows as long as the vehicle is equipped with side mirrors.

By: Robert Wilson

Window-tint laws vary from state to state, but typically the windshield must be clear.