How Does an Airplane Propeller Work?
An airplane propeller works much like a spinning wing, with the outside edge of the propeller spinning faster than the center, called the hub. While a great deal of wind is generated behind the propeller and, subsequently, the airplane, the airplane propeller does not power the plane by pushing air or wind; it creates movement of the aircraft by pulling the airplane into the wind or air. Much like a ship's propeller is called a screw for the way it screws itself into the water to pull the boat ahead, the aircraft propeller does the same process as it turns in the air.
The amount of twist machined into the airplane propeller is lesser near the outer edge and more pronounced near the center to compensate for the greater speed of the outer edge. The increase in twist or bevel of the propeller as it nears the slower-moving hub allows the airplane propeller to pull equally as strong all along the length of the blade. In some more advanced airplane propeller designs, the individual blades can be trimmed or adjusted to provide more or less bite into the air. This allows a pilot to adjust the pulling power of an engine on one wing to a comparable pull of the other wing, allowing the plane to be controlled much easier.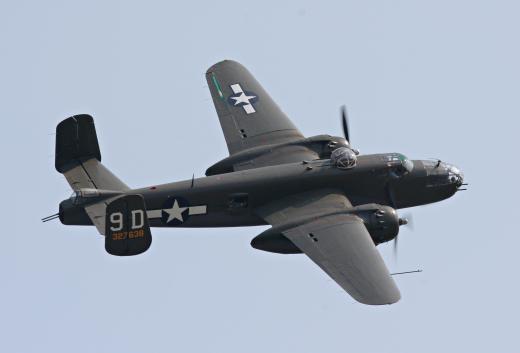 The twist engineered into the airplane propeller is critical in deciding the amount of power, commonly called thrust, the propeller is able to provide. Other factors impact thrust, such as engine speed, amount of twist machined into the blades and the diameter of the propeller. The larger the diameter, the more air the blades are able to attack or pull against. Much like installing a taller set of tires on a race car to create more top speed, the larger propeller will offer increased top speed for the airplane.
A helicopter propeller works very similarly to an airplane propeller, however, the helicopter blades are flat and lack twist. The tail rotor, however, is typically machined with a twist very similar to that of the airplane propeller. This is due to the helicopter propeller functioning more in the same capacity as a rotating wing, lifting the aircraft into the sky. The blades on the airplane function more like a screw, pulling the aircraft into the sky.
AS FEATURED ON:
AS FEATURED ON:






By: David Lloyd

Airplane propellers are designed to pull a plane through the air.

By: diter

The outside edge of a propeller spins faster than the inside.

By: Bogdan Vasilescu

Both airplane and boat propellers "screw" into the air, or water, to move ahead.