"Auto spa" is a popular name for what essentially is a full-service car wash. Some auto spas do provide more upscale services than traditional car washes, but in many cases, the services are similar. Auto spas clean cars, sport utility vehicles (SUVs), vans and passenger trucks. They might also care for motorcycles, boats, mobile homes and other vehicles. Auto spas provide washing, waxing, interior cleaning and vehicle detailing services.
The specific services and methods that auto spas offer vary between businesses. One auto spa might do everything by hand, using soft, lint-free cloths or sheepskin mitts to wash cars and perform hand waxing and polishing. Another auto spa might use tunnel washers or other automated equipment to wash and spray on wax and polish. Some auto spas offer both hand cleaning and automated washing services, with a higher price for hand cleaning, which involves more workers.
Other services provided by many auto spas include cleaning and dressing tires, cleaning interior windows, deodorizing, underbody flushing and more. Many auto spas combine services into detailing packages, such as bronze, silver and gold levels, for example, that include increasingly higher levels of cleaning services. A basic bronze package might include exterior washing and interior vacuuming with window cleaning. At the gold level, tire shining, polishing, clear coating and engine compartment cleaning also are part of the package. Some auto spas have à la carte menus for customers to pick and choose specific services, in addition to providing package services.
Some auto spas take a one-stop-shopping approach, offering preventive maintenance services in addition to standard cleaning of cars. Oil changes, replacement of fuel and air filters and flushing of radiators and transmissions are some examples of maintenance services that might be provided. Other services provided by auto spas include dent removal, window tinting, windshield repair and upholstery repair.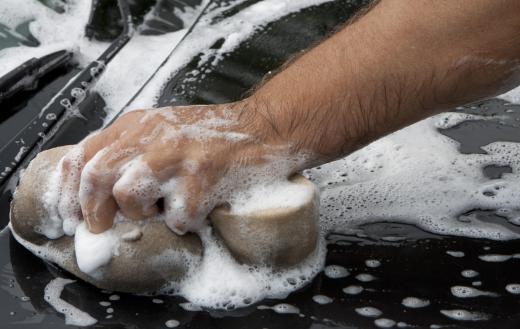 At an auto spa, the waiting area for customers might be comfortably basic or more luxurious, depending on the individual business and its clientele. At the basic end, complimentary coffee and tea might be provided, along with magazines and television. Auto spas at the more luxurious end of the spectrum might have waiting areas with leather or other cushioned chairs, flowing fountains and children's play areas with toys, snacks and more.
Many auto spas are traditional brick-and-mortar businesses, but others take the service to their customers. Mobile auto spas visit homes, businesses and other locations, providing similar services to more traditional car wash businesses. Mobile auto spas often are pricier, but they are becoming increasingly more popular because of the conveniences they offer.
AS FEATURED ON:
AS FEATURED ON:






By: Georgi Roshkov

Oil changes are commonly offered at auto spas.

By: jamalludin din

A minivan that's just come from an auto spa.

By: whitewizzard

Everything is done by hand at some auto spas.

By: algre

Upholstery repair may be offered at an auto spa.

By: Karin & Uwe Annas

Tires are cleaned and dressed at an auto spa.

By: Oleg Fedorov

Auto spas provide special services including interior cleaning.