A Volksrod is a hot rod that is built from a Volkswagen. The Volkswagen has been used to create many types of hot rods and kit cars due to its simplicity and ease of dis-assembly. The air-cooled engine and transaxle design typically make the Volksrod a good candidate for beginning builders as well as seasoned veterans. In the United States, the California street rod scene has given rise to the Volksrod as a more affordable option to the early American automobile that is the heart and soul of street rodding.
By simply removing the fenders and engine cover and adding over-sized tires, the Volksrod can assume a Baja racer image. The Baja bug has been very successful on the desert racing circuit due, in part, to the air-cooled engine. The rear engine design of the Volksrod allows the driver to aggressively attack the desert terrain without worry of puncturing a radiator and overheating. The rear engine also provides a nice balance for a racing vehicle that will encounter many large jumps and hard landings.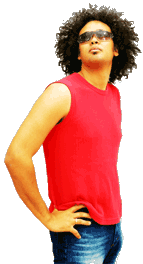 The air-cooled engine of the Volksrod is also very easily converted to a powerful racing engine. Many aftermarket manufacturers offer kits which increase the Volksrod engine's displacement. This, coupled with a wide array of intake designs and header exhaust manifolds, allows builders to create a huge amount of horsepower from the small engine package. Many respected engine builders agree that there is no engine quicker from 0 to 40 mph (0 to 24.84 kph) than a Volkswagen.
Subtle body lines and rounded fenders make the Volkswagen a clone of many of the more favored cars of the 1940s. Resembling a 1940 Ford, the modification of the Bug body turns it into a legitimate hot rod. The unit body construction of the Volkswagen allows builders to create many alterations that are simply not possible with a fully-framed vehicle. Thus, the hot rodding world has embraced the Volkswagen and allowed modified versions of the classic little Bug to sit proudly side by side with traditional hot rods.
The fiberglass dune buggy bodies of the 1970s have given way to radically chopped and modified Volksrod creations rivaling the rods created from Detroit iron. There is an entire culture devoted to the Volksrod and improving its image in the rodding world. Promoting events that feature the little hot rods across the country, the clubs have advocated the Volkswagen becoming a viable option as a hot rod foundation.
AS FEATURED ON:
AS FEATURED ON:






Man with hands on his hips