What is a Truck Transport?
Truck transport is a transportation method in which goods are moved by truck. People may also use the term "truck transport" to refer specifically to moving motor vehicles such as cars, boats, and motorcycles by truck. Trucking is a worldwide industry, with companies large and small offering and utilizing transport services. This method of transportation is highly flexible and very efficient.
With the development of the automobile in the 1800s, trucks were not far behind. People quickly realized the potential applications of truck transport, combining trucks with trains and boats for complete shipping needs. Unlike horses, trucks didn't require careful care and feeding to keep running, and they could haul heavy loads, be handled by small staffs, and used in all weathers and in all kinds of conditions. By the middle of the 20th century, truck transport had become the method of choice for moving everything from agricultural commodities to zoological supplies.
In truck transport, a specially designed large truck is used to haul goods. Some trucks are modified to carry specific types of goods, such as refrigerated trucks for loads which need to be kept cold, platform trucks for shipping cars, and livestock trucks which can carry live animals. The truck may have a single driver or a pair of drivers who take turns to keep the load moving 24 hours a day until it reaches its destination. Truckers tend to follow established routes to reach their locations, relying on roads which are dependable and which have support services like weigh stations and fuel facilities.
In some cases, goods may be transported by truck all the way from their origination point to their destination. In other instances, trucks may be combined with other methods of transportation. For example, train transport is cheaper, but limited by available track; goods can be loaded onto a train, offloaded onto a truck at a trainyard, and taken to their eventual destination. Entire trucks full of goods can also be loaded onto trains and boats for long haul transport which will be cheaper and faster than going by road, and it is also possible to load and offload containerized loads between ships, trains, and boats.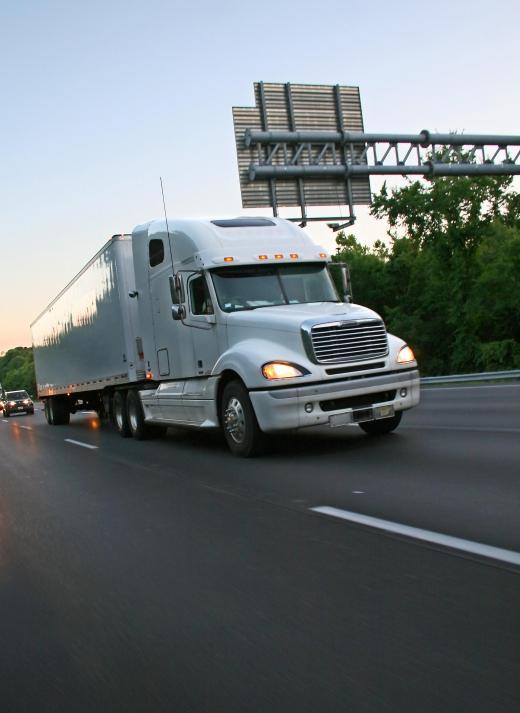 In the case of auto truck transport, the truck is used to carry motor vehicles. Especially valuable cars may be carried in an enclosed truck which protects the cars from damage and the elements. Less valuable cars or cars which are being transported for destruction can be carried on open racks which may accommodate numerous vehicles. People who need cars moved from one location to another can sometimes bundle their cars onto an existing transport, rather than needing to use private car shipping services, which can become very expensive.
AS FEATURED ON:
AS FEATURED ON:






By: majeczka

Trucks are used to transport many types of goods.

By: Binkski

Intermodal containers may be taken from the deck of a ship and loaded on to a truck trailer.

By: torugo

Long-haul trucks often travel great distances between pick-ups and deliveries.

By: Gilles Paire

Long haul trucking is responsible for delivering many of the items sold in stores.