What are Truck Driving Schools?
Truck driving schools are trade schools that provide an education in the operation of a tractor-trailer, also called an eighteen-wheeler, a semi, or a big rig. There is much more to being a truck driver than the basic mechanics of driving. There are very specific rules regarding how many hours per day one can drive a truck, how many hours a truck driver must rest, how heavy the load can be, how the weight is dispersed, and various other issues. Truck driving schools teach students all this and more.
To operate a tractor-trailer, a person must obtain a Commercial Driver's License (CDL). There is a bit more to earning one than what is required for a typical driver's license, and there are further endorsements required for some truck driving jobs, such as a "Haz-mat" endorsement for anyone who hauls hazardous materials. Truck driving schools help people prepare for the CDL, as well as for additional endorsements. Truck driving schools teach not only the operation of the truck and trailer, but also the rules of the road concerning trucks. They also teach people how to keep track of driving hours, resting hours, and miles driven, and many other important issues.
Keeping a correct logbook is very important. Truck driving schools teach drivers to document appropriately. If a truck driver's logbook is incorrect, he or she may be given a citation or "shut down," which simply means that he or she cannot drive any further until the resting hours or non-driving hours catch up. Logbook infractions tend to carry heavy fines.
Truck driving schools generally have classroom instruction, as well as on-the-job training. Many truck driving schools are in some way related to trucking companies. Some truck driving schools recruit for trucking companies, while others train drivers free of charge and help them get some hands-on experience if they agree to go to work for a certain company for a specific amount of time after earning a CDL. It's not a bad deal, since truck driving offers reasonable pay and benefits, as well as the chance to see more of the country.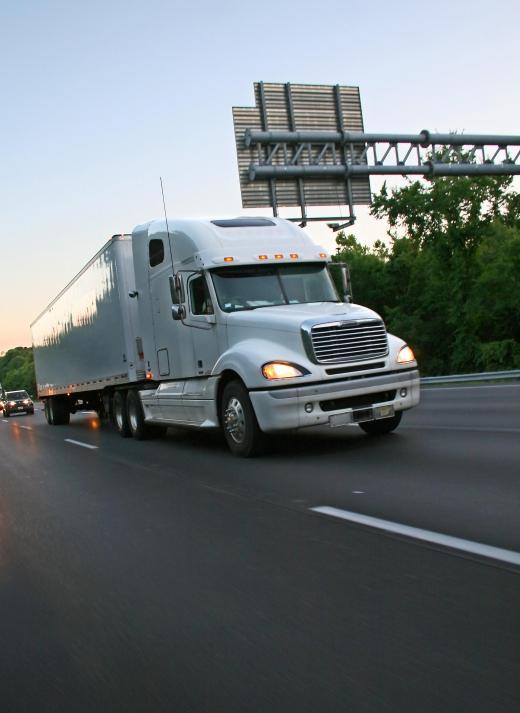 For beginners, truck driving schools are the best option to learn to drive a truck. You'll get the best of both worlds. You will receive competent classroom instruction and have the opportunity to work with an experienced driver or "trainer" until your company feels you are ready to drive on your own.
AS FEATURED ON:
AS FEATURED ON:






By: majeczka

Truck drivers who transport fuel must be trained in the proper shipping of flammable liquids.

By: steven Husk

Truck driving schools allow someone to obtain their CDL, letting them legally drive a tractor trailer.

By: torugo

Truck driver trainees are paired with experienced drivers and are tasked with applying the skills they learned in-class to real life situations.