A hydrogen car is simply a car that uses a hydrogen fuel cell by which to operate and generate its horsepower. The hydrogen car could be the future of cars, as alternative energies are being explored more and more, and hydrogen technology becomes increasingly practical. As more hydrogen car models come onto the market, the prices should come down, making the vehicles more attractive to the individual consumer.
One of the biggest drawbacks to hydrogen vehicles is a lack of available refueling stations. While there has been some introduction of hydrogen refueling stations in select places around the world, such as California in the United States, many geographical areas have no refueling areas for such vehicles. Therefore, the vehicles have no practical use outside a relatively small geographic area.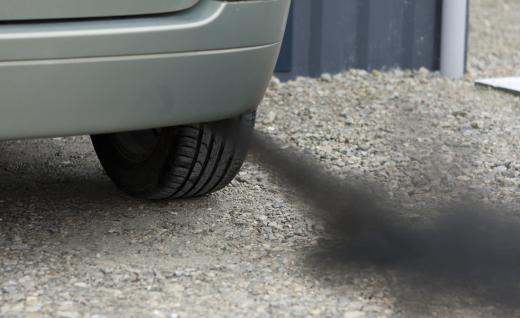 The obstacles to building refueling stations for a hydrogen car are significant. Essentially, it becomes a "chicken or egg" debate. Which should come first, the refueling stations for hydrogen vehicles or the hydrogen vehicle? In the end, there is no good answer to this question. Demand for hydrogen fuel will not come until there are plenty of hydrogen cars. However, there will not be many cars until there is a place for them to refuel.
As stated previously, hydrogen fuel cells are the main power source for a hydrogen car. These cells operate with a mix of oxygen and hydrogen. Together, in some cases, they produce an electrical current which is then used to power the engine. In actuality, a hydrogen car is not run by hydrogen directly, but by electricity being transformed into mechanical power. The difference between a hydrogen car and other electrical cars is that the power source is able to constantly regenerate itself onboard, as long as the hydrogen can be replaced. Hydrogen cars can also work by creating combustion, which is nothing more than a controlled explosion, for mechanical energy, much like traditional vehicles do with gasoline or diesel fuel.
There are two primary benefits to a hydrogen car. First, it does not produce the harmful gasses that gasoline and diesel cars produce, such as carbon dioxide, which contribute to the greenhouse effect, smog and other health hazards. Second, they are approximately three times more efficient in their energy conversion, when compared to traditional vehicles. Therefore, it is not only the type of energy they consume, but the way it is consumed that makes a significant difference in vehicle operation.
AS FEATURED ON:
AS FEATURED ON:






By: Mastrofoto

Hydrogen cars do not produce the harmful emissions that gasoline-powered cars produce.

By: Gabriele Maltinti

One of the biggest drawbacks to hydrogen vehicles is a lack of available refueling stations.