How does a Fuel Cell Hydrogen Car Work?
A fuel cell hydrogen car works by combining hydrogen with oxygen in a process that produces energy. Interest in cars powered by hydrogen fuel cells has grown in recent years because fuel cells are more efficient and create less exhaust emissions than cars powered by conventional fossil-fueled engines. Widespread use of fuel cell hydrogen cars could also potentially reduce the world's reliance on fossil-based fuels, such as gasoline and diesel, once the technology and infrastructure exists to support widespread production, distribution and use of these vehicles.
While powering cars with fuel cells is a relatively new idea, fuel cells themselves have been in use for decades. The former Soviet Union and the United States used fuel cell technology to provide much of the power for the manned spacecraft of their respective space programs from the early days of the space age. Space engineers discovered that the weight of batteries limited the amount of payload that could be launched into space and also limited the possible length of space missions. Fuel cells continue to provide much of the power for manned spacecraft today.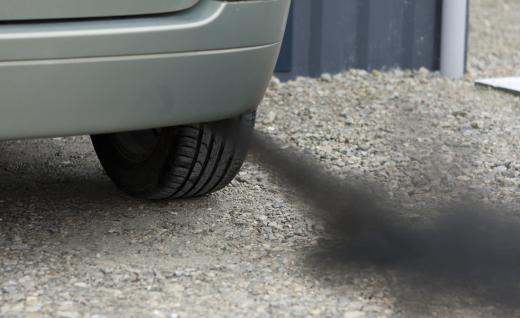 A fuel cell functions very much like a battery, in that it is a closed cell that produces electricity. Like a battery, the fuel cells on a fuel cell hydrogen car have a negative side, known as an anode, and a positive side, known as an cathode. In many fuel cells there is a layer sandwiched in between the anode and the cathode known as an electrolyte.
Hydrogen gas enters through the anode side of the cell and flows through a catalyst, while the oxygen enters through the cathode. As hydrogen flows through the catalyst, the catalyst separates the positive atoms, known as protons, and the negative atoms, known as electrons, in the hydrogen. The electrolyte layer functions as a barrier that only allows positively charged hydrogen atoms to flow through it. The electrons are prevented from entering the electrolyte layer and are diverted around the barrier through wires, where they will recombine with positively charged atoms to create water.
As the electrons are routed through a wire, it creates an electrical current, producing energy. In a fuel cell hydrogen car, the vehicle's motor is powered by the electricity that is produced by the electrons flowing through the circuit. As long as there is a supply of hydrogen gas, the engine in a fuel cell hydrogen car will continue to produce power. Water is the only by-product created as a result of the operation of a fuel cell hydrogen car, making it a more environmentally friendly and sustainable alternative to the use of petroleum based fuels in vehicles.
AS FEATURED ON:
AS FEATURED ON:






By: Mastrofoto

Fuel cell hydrogen cars create less exhaust emissions than cars powered by conventional fossil-fueled engines.