A fuselage is the body of an aircraft, which houses passengers, cargo, and usually the pilots of the craft as well. Fuselages vary widely in shape, size, and style, depending on the purpose of the aircraft that they are attached to. They are hollowed out to reduce the overall weight of the craft, and they provide the structural framework to which the wings, tail, and other features are attached. If you have ever flown in an aircraft, chances are that you have been inside a fuselage.
The word comes from the French fuselé, which means "spindle shaped," a reference to the classic cylindrical fuselage used to produce commercial aircraft like the Boeing company's 7-series. Construction of a fuselage starts with assembling a framework which accounts for specific needs in the plane design, and then covering the framework with a lightweight metallic skin. The plane may be insulated to help control the temperature inside, and then the inside of the fuselage is fitted out in accordance with the plane's purpose.
In a passenger plane, for example, the fuselage is divided into a cargo section and a passenger section. The passenger section is fitted with seats, temperature control devices, and other equipment needed to make the flight more comfortable, such as bathrooms and kitchens for preparing meals. On a cargo plane, the inside is usually less finished, since the plane is only used for packages, not for living organisms.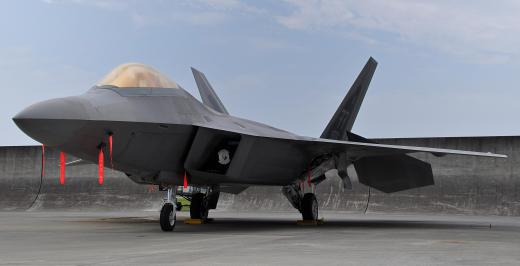 The aerodynamics of a fuselage can vary. For example, on a fighter jet, the fuselage is made extremely sleek, to allow the plane to fly more quickly. Smaller personal planes might have less sleek fuselages since speed is not as important. Some commercial aircraft have very bulky fuselages with projections to accommodate the pilots and first class passengers, while others are more streamlined since they are designed for quick commutes.
In some cases, a plane lacks a fuselage altogether, although this is rare. So-called flying wing aircraft like stealth bombers, drones, and spy planes do not have a fuselage, since they are built from a single main wing. Flying wing aircraft are built by several military contractors to accommodate special needs, and there has been some debate over how efficient these craft really are. The lack of a fuselage certainly makes a flying wing aircraft much lighter, but these planes can be difficult to control without the stabilizing tail installed on a more traditional aircraft.


By: hallucion_7

The Boeing 747s large fuselage earned it the distinction of being the first aircraft to be given the "Jumbo jet" moniker.

By: pixel974

In most aircraft, the cockpit is situated in the forward part of the fuselage.

By: Sly

Thr fuselage of a crop duster may contain tanks filled with substances like insecticide.

By: dreamnikon

The fuselage and wings of many stealth aircraft, such as the F-22 Raptor, gradually blend in to each other.

By: McCarthys_PhotoWorks

The engine is incorporated into the fuselage on fighters like the F-16 Fighting Falcon.