What are the Different Types of Aircraft?
An aircraft is a vessel designed to move through the air. An airplane is a popular example of this type of vessel but there are many others. Helicopters, airships, and hot air balloons are also examples of different types of aircraft.
An airplane may be one of the most recognizable types of aircraft. These vessels have fixed wings and propellers. Their body styles can greatly vary as there are many types and sizes of airplanes used for numerous reasons. These include seaplanes and jets.
Most airplanes require a runway for take off and landing. Seaplanes are an exception. These flying vessels can take off and land on water. One type, known as a floatplane, has floating structures extending from the bottom of the plane's body to prevent it from touching the water. Another type, known as a flying boat, tends to have floating devices under the wings because part of the body rests in the water.
People often mistakenly believe that airplanes and jets are separate types of aircraft. A jet is an airplane but is set apart by the fact that it has jet engines. These engines require different fuel than the engines of many other types of airplanes. Jets tend to be preferable aircraft when flying at fast speeds and high altitudes over long distances.
Gliders are small winged aircraft designed similar to airplanes but with notable differences. The wings of a glider tend to be longer and slimmer than those of an airplane. The cockpit is typically so small that it requires the pilot to be in a reclined position. There may be room for an additional person but it is not likely that more than two people will fit into this type of vessel.
A glider is generally used for recreational or sporting purposes. People use it for gliding or sky sailing. Some of these vessels have engines but others do not. The use of an engine is often to prolong the flying time.
A helicopter is an aircraft whose flight is made possible by rotors on top of the vessel. Unlike a fixed wing vessel, a helicopter does not require a runway or much space to take off and land. This is because it has the ability to move vertically. Another advantage of helicopters is they can hover. One disadvantage, however, is this type of aircraft is generally not suitable for long distances.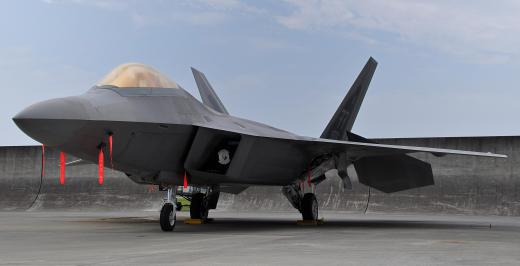 An airship is a vessel that is lighter than air. A zeppelin, for example, is an airship whose shape is retained by a rigid structure. A blimp is an airship whose shape is dependent on the inflation gases. These vessels are generally made airborne when they are inflated with gas. Their movements are usually controlled by engines and rudders.
AS FEATURED ON:
AS FEATURED ON:






By: Carlson

Commercial aircraft carry civilian passengers between set destinations.

By: hallucion_7

The Boeing 747 is an example of a long haul, wide-body commercial jetliner.

By: pixel974

Heavy aircraft, such as commercial airliners, bombers, and cargo planes, are usually flown by two pilots who sit side by side in the cockpit.

By: Sly

Crop dusters, which are usually single-engined light aircraft, are used to disperse substances like herbicides and pesticides.

By: dreamnikon

Aircraft like the Lockheed Martin F-22 Raptor are designed to absorb and disperse radio waves rather than bounce them back in a coherent manner to radar receivers.

By: McCarthys_PhotoWorks

The F-16 Fighting Falcon is an example of a lightweight, single-seat jet fighter.

By: itsallgood

Non-rigid dirigibles, which can loiter over areas for extended periods of time, are one type of lighter than air aircraft.

By: Jenny Thompson

A glider's wings tend to be longer and slimmer than a powered aircraft.

By: BSANI

A helicopter is a type of aircraft that uses rotary wings, or rotors, to generate lift and facilitate vertical takeoff and landing (VTOL) flight.

By: icholakov

The term "aircraft" includes hot air balloons.

By: pollux

Seaplanes can take off and land in water.