What are the Different Types of Seat Covers?
There are many different types of seat covers for your automobile, depending on your taste, your pocketbook, and the purpose you want them to serve. They are generally divided into three categories: those designed to protect seats so they will stay in good shape, those made to cover seats that are damaged or worn out, and those that simply change or enhance the style of the existing seats.
When large amounts of hard earned money have been spent on a good quality automobile, owners and leasers alike will want to protect the seats, which after all, take much wear and tear. Since cars quickly depreciate, they must be preserved and protected as much as possible; good quality seat covers will help them retain their value. Of course, if an older, used car has been purchased, the look and comfort of the seats may have faded over time, and covers for the seats can bring back the look and feel of a newer car. Lastly, there are those of us who simply want to put our own personal style into our cars. Seat covers can be found in a variety of colors, patterns, and fabrics, and many car owners even have their name, initials, or business logo embroidered onto them.
Perhaps the best, and the most expensive, seat covers are those made to fit a specific kind of car seat. These custom-fit covers look and feel as though they were factory installed; their style, design, and fit are made-to-order. In addition, when covers are custom made for a specific make and model of an automobile, they will not interfere with the seat belt, seat control buttons, head rest, or side-impact air bags.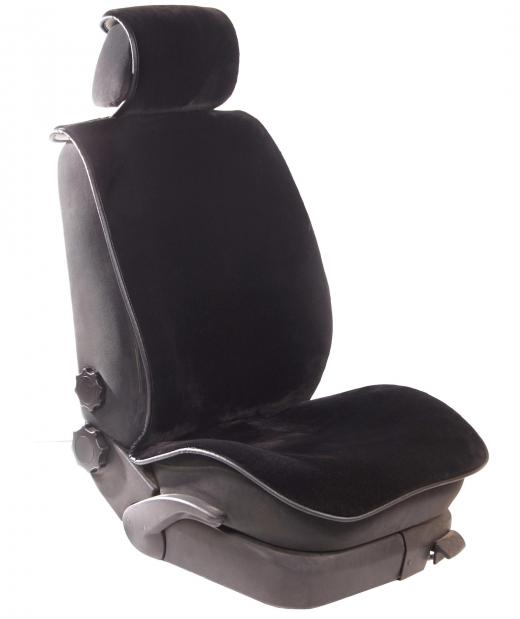 Semi-custom seat covers are a bit less expensive, but include nearly all the qualities of the made-to-order variety. This type is generally made to cover the seats in specific types of cars. For instance, a set might fit all the sports utility vehicles or all the compact cars of a particular make of automobiles.
Universal seat covers are just what they sound like: they fit any type of seat in any type of vehicle, including every make, model, and year. They are less expensive and easy to install, as they usually just stretch over the existing seats. Manufacturers have warned, however, that this type should not be used on cars with side-impact airbags.
AS FEATURED ON:
AS FEATURED ON:






By: Alexey Zarodov

Car seat covers may obstruct deployment of side airbags, rendering them useless in an accident.

By: monstersparrow

Slip-on car seat covers may be helpful in maintaining the durability and cleanliness of car seat fabric.