What are the Different Types of Car Safety Features?
Advances in car safety features are continual and always improving. The most well known car safety features include seat belts and air bags, but there are many other, more sophisticated safety features in cars. Anti-lock brakes, tire pressure monitoring systems, daytime running mights, and even switches that can turn off an airbag are all sophisticated systems that improve car safety. The weight, shape, and size of a car will also have an impact on safety, and many car manufacturers consider the overall design of the vehicle to be another safety features. Traction control systems are featured on many vehicles and improve safety in emergency situations.
Seat belts are designed to keep passengers in the vehicle steady when an impact occurs. As the most common of all car safety features, seat belt use is required by law in many regions of the world because wearing a seat belt can prevent a person from being ejected from the vehicle upon impact. Seat belts can also prevent a person from impacting other parts of the vehicle during a car accident. When used in conjunction with an airbag or a lightweight cloth bag that ejects from the dash or steering wheel during a car accident, the seat belt can be responsible for reducing injury or preventing fatalities. The airbag inflates immediately upon impact to provide a soft cushion into which a person may be propelled during an accident. Airbags are now commonly mounted on both the driver side and the passenger side, as well as on the sides of the car to aid in preventing injury during a side impact.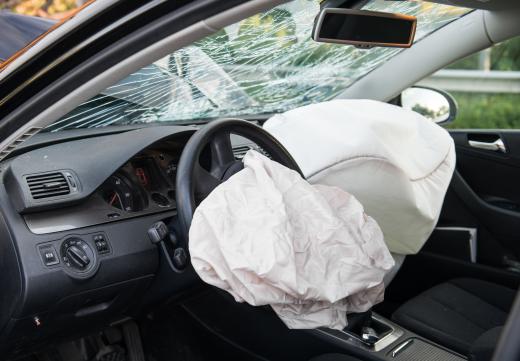 Anti-lock braking systems have become common car safety features that help a driver avoid skidding and losing control of the vehicle. When the brake pedal is depressed suddenly or with great force, the brakes have a tendency to lock up, leading to an uncontrolled skid. Anti-lock braking systems prevent the brakes from locking up, staggering the force applied to the brakes to help the driver remain in control of the vehicle.
Daytime running lights are essentially headlights that are turned on all the time. This may seem like one of the less important car safety features, but when the driver can see and be seen, collisions are less likely to occur. Daytime running lights allow the vehicle to be seen by other vehicles or people, even during inclement weather. Some regions of the world require lights to be turned on during the daytime, or at least during inclement weather.
AS FEATURED ON:
AS FEATURED ON:






By: benjaminnolte

Airbags are important life-saving car features.

By: Željko Radojko

The emergency brake is designed to function even when there is total brake failure.

By: il-fede

The size and shape of a car has an impact on its safety.