What Are the Different Types of ATV Decals?
There are several decals on the typical all-terrain vehicle (ATV), from the manufacturer's name to the model and engine size. The ATV decals are not simply provided for good looks and styling, but for information and safety as well. Some ATV decals deal with operational instructions, such as how to shift gears, while others warn of danger by telling a rider where to avoid stepping on the machine. There are other ATV decals that are intended to personalize the machine to their owner's personal taste. These decals include flames and rock band or favorite sports team logos.
ATVs are commonly used by people to work, relax and play, and many of the ATV decals are geared towards identifying a particular machine for a particular customer. The manufacturer's name is one of the most important ATV decals on the machine. This shows the world who built the ATV and can generate customer loyalty from people witnessing the machine's capabilities. Much like auto buyers are drawn to a particular manufacturer, ATV riders are also drawn towards a particular manufacturer's name displayed proudly on the side of the machine through the use of a decal.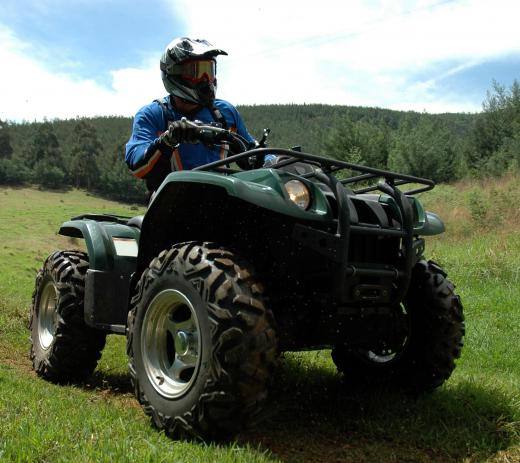 The next most important decal to some ATV buyers is the engine displacement decal. Many riders want big, powerful and exciting machines to ride and they also want to display this fact to everyone who looks at the machine. This is the reason the two largest decals on an ATV are the manufacturer's brand name and the displacement badge or decal showing the size of the engine. Other ATV decals show if the vehicle is a 4x4, a racing version typically referenced by an R following the model name or engine size. Some decals even warn of danger, such as not operating the vehicle without a helmet.
Some decals, such as those prompting an oil change at a given interval and using only unleaded fuel, are intended to instruct a rider on how to properly operate the machine. Other decals include a serial number, warranty information and inspection sticker. Personalized ATV decals, such as flames or a favorite football team logo, are often added by the vehicle's owner to lend a touch of individualism to his or her machine. Other decals, such as a farm or ranch name, construction company logo or police, fire or safety symbols, are typically applied to identify the machine as belonging to a specific use.
AS FEATURED ON:
AS FEATURED ON:






By: stoffies

ATV decals are geared towards identifying a particular machine for a particular customer.