What Are the Different Types of ATV Bumpers?
Most all terrain vehicle (ATV) manufacturers install front and rear bumpers on their new vehicles, but that was not always the normal practice. Generally, companies make bumpers that attach to the factory bumper for extra protection, and some companies sell replacement bumpers or bumpers for older, stripped-down models. There are several reasons why ATV owners need bumpers on their vehicles, and therefore bumper designers have developed different types. Some bumpers are large and heavy to protect the vehicle from off-road damage; others are small and lightweight for racing. Many companies offer different types of optional equipment, such as winch covers or removable mud screens.
When buying a bumper, most consumers want it to be stylish, durable, and yet functional. Manufacturing companies have designed several types of ATV bumpers to supply these demands. Most makers use 1.5-inch (about 38-mm) tubular framing to make durable bumpers. Utility and off-road vehicles usually have steel bumper framing, but racing vehicles need the lighter-weight aluminum. Bumpers typically weigh between 20 to 35 pounds (about 9.1 to 15.8 kg), depending on the size and configuration of the bumper and the materials used.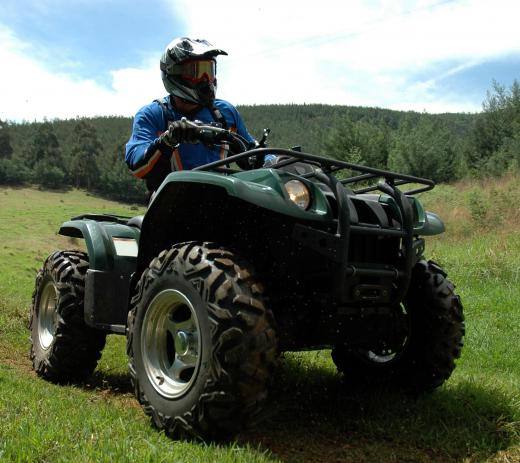 Outdoor enthusiasts, rough-terrain trekkers, and others usually select bumpers that offer better radiator protection. Some bumpers feature options, such as winch covers and mud screens, that give extra protection to the vehicle as it travels through brush, marsh plants, and other hazards. Removable mud screens allow the user to clean the screens easily or adjust them for different types of terrain. Often bumpers have mounting points for necessary equipment like lights.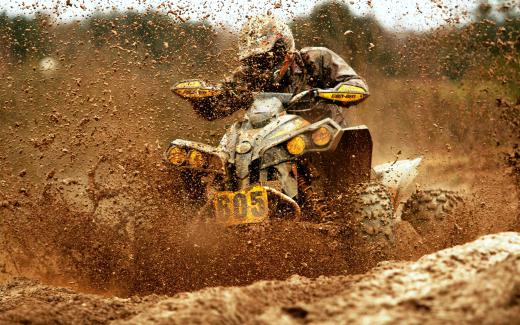 Some people, such as farmers, ranchers, and park rangers, use their vehicles for work purposes. Often they select ATV bumpers that have features that are useful in their line of work. Some of these options include mounting hardware for a winch or lights. Most utility bumpers feature a place to attach a towrope, chain, or strap. Another advantage is that the user can strap extra gear onto the ATV using the bumper frame.
ATV racers seek specialty bumpers. As with most bumpers, the racing ATV bumpers must protect the radiator and the plastic parts of the machine. They also must be lightweight; therefore, manufacturers generally make them from aluminum. Front bumpers have a mounting place for the racing number plate.
Although the main reason for using ATV bumpers is for safety, owners usually want them to be stylish as well. In order to fulfill this desire, manufacturers offer a variety of finishes. One of the most common finishes is powder coat. This paint application technique gives a hard finish that resists corrosion and rust. Usually companies sell black bumpers, but the finish may be textured, matte, or high gloss. Sometimes the bumpers feature polished or brushed metal finishes, such as steel or aluminum.
ATV bumpers may be available through several different types of stores. ATV dealerships, sporting goods stores, and bumper manufacturer outlet stores are some examples of stores that sell bumpers. Often people buy the bumpers through catalogs and online stores or auctions. When ordering bumpers, the buyer needs to supply the ATV make, model, and year.
AS FEATURED ON:
AS FEATURED ON:






By: stoffies

Rough-terrain ATV riders often select bumpers that offer better radiator protection.

By: Tomasz Sibilski

Racing bumpers are designed to be small and lightweight.