What Are the Different Types of ATV Boots?
ATV boots are heavy-duty protective footwear for sport utility riders. Most models of ATV boots have similar features, but there are a small handful of choices and features to choose from. A wide variety of sizes are available to fit men's and women's feet. There are a few trustworthy brands to choose from, but most ATV boots are relatively similar in features. They are an important accessory to ATV riding, along with ATV gloves, helmets, and protective eyewear.
ATV boots are made mainly with leather and a protective coating, commonly polyurethane. The outer coating is essential for protection to the leather. Sport utility riders can purchase additional spray-on coatings for reapplication after the original wears down. Even on basic models, shin and ankle plates are standard, installed on the ATV boots for impact and abrasion resistance. A small variety of color options are available, most commonly in black, red, grey, and white.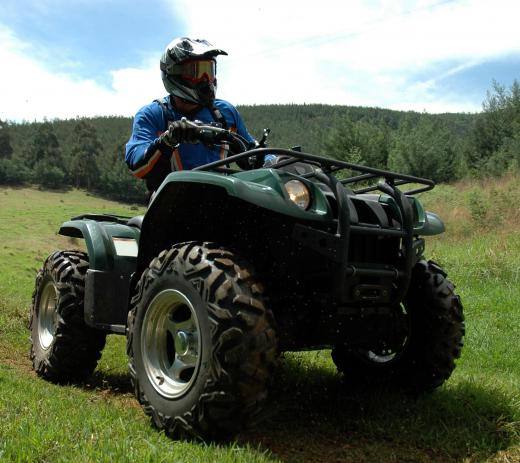 Split-grain leather is commonly used for heat resistance as the heavy-duty boots can cause excessive sweating in humid weather. Taller ATV boots protect the entire shin, while shorter models only protect a portion. The average weight of an ATV boot is about three to four pounds (one to two kilograms). Foam insulates the boot and provides cushion and padding. The adjustable closure straps placed on the shin of the boot and the lined interiors and insoles may wear out over time, and ATV enthusiasts can buy replacements easily.
Short models of ATV boots are also available. These boots have an appearance similar to a short hiking boot and run only a few inches (several centimeters) above the ankle. The ideal lightweight options for users who ride in warmer climates, they are designed to provide the minimum amount of coverage without sacrificing the safety of a standard boot. These models weigh only about 25 to 30 ounces (700 to 850 grams) and are hybrids of boots and athletic shoes.
Sport utility riders can expect to pay about $90 US Dollars (USD) for new lower-end models and around $400 USD for new, higher-end models with more features. Purchasing used ATV boots can garner prices at around $50 to $60 USD. Major online trading and auction sites are the best way to find quality used boots. These are sometimes backed with seven- to 14-day warranties. Some of the highest-end, name-brand models of ATV boots can cost as much as $600 USD for a pair.
AS FEATURED ON:
AS FEATURED ON:






By: stoffies

Shin and ankle plates are installed on ATV boots for impact and abrasion resistance.