What Are the Best Tips for Buying a Used 4x4?
It helps to know what to look for when buying a used 4x4, and this means researching more than just the normal facts about a particular vehicle. A person buying a used 4x4 will need to be able to thoroughly inspect the vehicle for damage that is common on off-road vehicles, and he or she will also need to be able to look under the hood to spot indicators of potential problems in the future after purchase. The best place to start buying a used vehicle is to first decide what the buyer wants and learn as much as possible about that particular vehicle.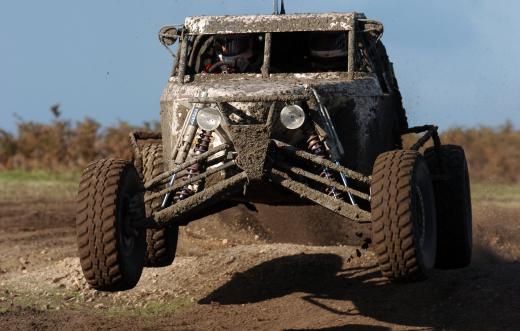 Some 4x4 owners do not drive off-road very much, while others may drive off road regularly and aggressively. It helps to recognize signs of a used 4x4 that has been driven off road aggressively. Such signs include dented or bent wheels, scratches on the undercarriage or body, dents in the body, damage to suspension — especially leaf springs — and so on. When inspecting the used 4x4, it is important to get underneath the vehicle and take note of any scratches or damage. The buyer can also find out if any parts have been upgraded or replaced, which may add or detract from the overall quality and price of the vehicle.
The test drive is vitally important when purchasing a used 4x4. If possible, the buyer should drive the vehicle on- and off-road to test the steering capabilities, power, suspension, and so on. This is a good time to make sure all four wheel drive components work properly; if the vehicle features locking hubs that need to be locked by hand, the buyer can tell if the hubs are in good shape by noting whether the locks are difficult to move. If the hubs lock automatically, the buyer should test the four wheel drive unit from the cab of the vehicle by switching into and out of four wheel drive several times.
Look for extras that do not come stock with the used 4x4. Winches and racks, for example, can cut down the costs of upgrades after the vehicle has been purchased. Take note of the condition of the extras as well to make sure they are functional. When looking under the hood of the vehicle, take note of any maintenance issues that will need to be addressed right away. Cracked belts, leaking oil, low or burnt fluids, and so on can all be indications of potential problems later on.


By: Grafvision

Some 4x4 owners drive off road regularly and aggressively.

By: Sportlibrary

The test drive is vitally important when purchasing a used 4x4.