When riding an all-terrain vehicle (ATV) the rider's face will be exposed to the elements, as well as debris from roads or off-road surfaces. In order to protect this sensitive area of the body, the rider will wear a protective helmet as well as ATV goggles. These goggles are designed to work in conjunction with the helmet to protect the eyes and face from debris, and in some cases, the ATV goggles are tinted to help protect the eyes from ultraviolet rays. These goggles are often identical to some motorcycle goggles, and they are similar in style to ski goggles.
There are certain differences between ATV goggles and ski goggles. An ATV rider is far more likely to be exposed to dirt and mud that can cover the lens of the goggles, thereby preventing adequate vision. To counteract this problem, ATV goggles often feature clear lens protectors that can simply be peeled away when they become too dirty or muddy to see through. These lens covers are refillable, which means the rider can simply buy more and adhere them to the lens once he or she runs out of the initial batch of covers.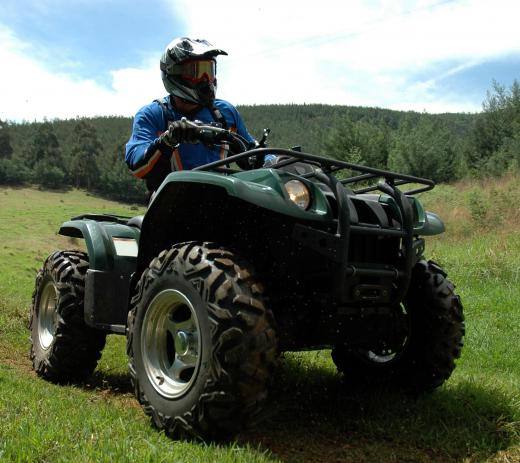 Like other types of goggles, ATV goggles feature flexible frames that will not shatter when impacted, as well as flexible lenses that will also resist shattering. While not a common occurrence, it is possible for a rider to lose control of a vehicle and impact the ground with his or her face, and the goggles will offer some protection from impacts should this occur. The helmet is the primary protective piece of equipment in this case, however, as it is more durable and is often designed to help prevent the face from hitting the ground during falls.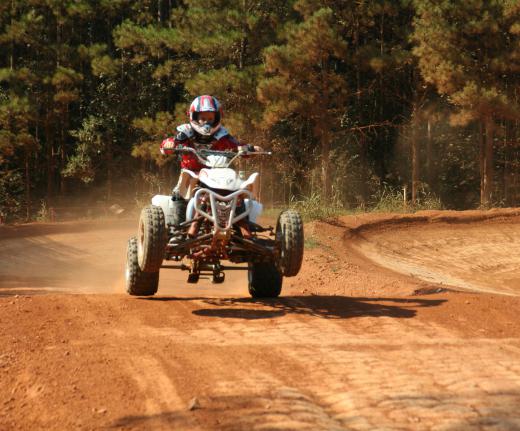 The ATV goggles are held in place by an elastic strap that wraps around the outside of the helmet. The strap is almost always adjustable so the rider can move the goggles as necessary for comfort and function. Many goggle designs now feature straps with a locking buckle mounted at the rear that makes putting on and taking off the goggles much easier for the rider. These buckles are usually made from plastic to help keep costs down and to protect the finish of the helmet. Many helmets also feature goggle strap guides to help keep the goggles in position, even during significant jostling over rough terrain.
AS FEATURED ON:
AS FEATURED ON:






By: stoffies

ATV goggles often feature lens protectors that can be peeled away when they become too dirty to see through.

By: Kelly Lambert

ATV goggles can protect a rider's eyes from dust, rocks, and dirt.