How can I Keep my Car Windows from Fogging up?
To keep your car windows from fogging up, there are three basic things to consider: how to prevent it, how to reduce it if it occurs, and how to remove it once it is there. You can help prevent fogging by reducing the amount of moisture in the vehicle. Although some may still occur, you can minimize it by drying out air inside the car. If you do end up with foggy windows, most vehicles have defoggers that you can use, and a dry towel may also be effective for wiping it away.
Preventing Foggy Windows
You can help keep your car windows from fogging up by cleaning the interior of the windows every one to two weeks. Car windows, like other parts of the vehicle, gather dust and oil through normal use. This buildup actually makes them more likely to fog, as it provides a base for moisture to accumulate on. During wet weather seasons, you should clean the windows once a week to help prevent your car windows from fogging up.
Fog develops on windows because the air in the car is humid. This moisture comes from the breath of people in a car, and also from damp clothing, hair, and other items. Try to eliminate as much excess moisture as you can before getting into a car. Kick as much snow off of your shoes as possible during the winter, and vigorously shake rain from umbrellas, coats, and other items. Dehumidifier crystals, which draw moisture from the air, can also be kept in a small cup in your car.
Reducing Fog Buildup
One of the best methods to keep car windows from fogging is to use your car's defogger or defroster air setting. While the "recirculate" option may warm the inside of a car more quickly, it also keeps the moisture in the air. It's better to bring in air from outside the car, which is usually drier and warmed by the engine. Rolling down the windows a little bit can also help let in drier air; even 0.5 inch (1.27 centimeters) can make a noticeable difference. If it is raining or snowing heavily, however, this may be ineffective as it lets in moisture, so use the air conditioning or heating system.
It can also help to warm up the car before driving in cold weather, and turn on the defroster before the windows have the chance to fog up. Don't do this in a closed garage, since carbon monoxide buildup from car exhaust is dangerous in an unventilated space. If you park your car outdoors in a safe neighborhood, start the engine and set the defogger a few minutes before you plan to leave. In some car models, a rear defogger can help keep back windows clear as well.
Eliminating Fog on Windows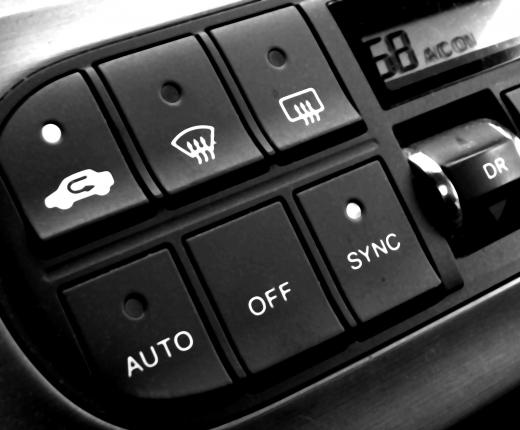 When in a hurry, you can clear fog from windows by wiping down their interior surface with a clean, dry towel. This should only be done when absolutely necessary, however, as it won't necessarily prevent the windows from clouding up again. Defoggers work by warming the windows, which dramatically reduces how easily fog can form on them.
AS FEATURED ON:
AS FEATURED ON:






By: Dinadesign

Humid air in the car leads to foggy windows.

By: Robert Wilson

Cleaning the interior of your car windows may help prevent them from fogging up.

By: Nneirda

In winter, keep snow out of the car as much as possible.

By: Wrangler

Warm up your car outdoors, because harmful carbon monoxide exhaust gases can get trapped inside garages and become deadly to anyone inside the car.

By: alwayspp

While the "recirculate" option may warm the inside of a car more quickly, it also keeps the moisture in the air.