What is Railroad Engineering?
The design, structure, and operation of all railroad systems is the main purpose of railroad engineering. Civil engineering, computer engineering, electrical engineering, mechanical engineering, and other engineering disciplines combine to create railroad engineering. As is the case with many other professions, railroad engineering has a past built entirely from necessity.
Towards the beginning of the 19th century, railroads became the single most popular form of travel. Since railroads were complex to build and maintain, the need for specialized railroad engineers grew rapidly. Originally, railroad engineers worked mostly on trains that were powered by steam, since most trains at that time had steam engines. As the railway system became more and more important, diesel and electric trains were conceived. Therefore, engineers who could work on electric and diesel trains became invaluable to many railroad companies.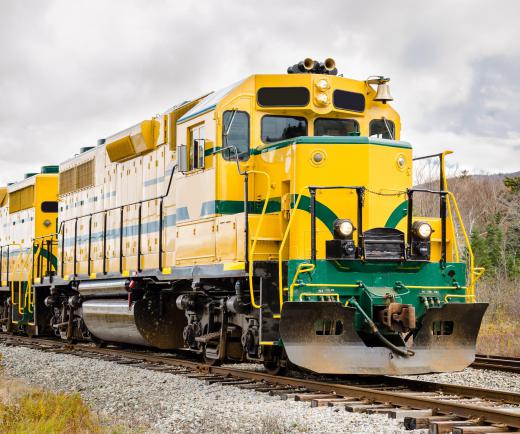 The railroad system throughout North America is not as robust as it once was. Railroads are still abundant throughout Europe and Asia, however. Thus, most railroad engineers find employment in these regions, though some engineers may still find employment fixing, building, and maintaining train systems within North America.
In order to become a railroad engineer, various educational requirements must be met. Essentially, all prospective railroad engineers must obtain an engineering degree at the university level. Many countries also require that railroad engineers gain a Master of Engineering degree in addition to an undergraduate degree. Further, most newly graduated engineering students must work within the field for a number of months before applying for a permanent railroad engineering position.
There are numerous sub-fields of railroad engineering, including energy electrification, systems engineering, rail systems integration, and others. Those who wish to focus on one particular aspect of railway engineering may choose to study one of these sub-fields. Frequently, specialized engineers are in high demand, since certain aspects of railroad construction and maintenance can be very complex.
Once a person has gained a railroad engineering degree, it is then possible to obtain a position within this field. Various companies hire railroad engineers, and some of these professionals may also find employment with government agencies. To look for a position as a railroad engineer, candidates may apply directly to a railroad company. Even though railroads are not as important as they once were, railroad engineers are still needed across the globe.
AS FEATURED ON:
AS FEATURED ON:






By: alpegor

The design of all railroad systems, including the electronics that enable one "master" locomotive to control others in a train, falls under railroad engineering.

By: Dmitriy Sladkov

Railroad engineering might involve the design of rolling stock, including tank cars that can carry liquefied natural gas.

By: iChip

Maintenance of tracks is one aspect of railroad engineering.

By: Ivan Kruk

Railroad engineering specialities include systems engineering and rail systems integration.