Drag racing is an automobile or motorcycle competition that uses straight, level, and fairly short ¼-mile (400 meter) or ½-mile (800 meter) tracks, though distances can vary. Competitors commonly race by twos, side by side. The vehicles start the race from a dead stop, accelerating to great speeds in a short interval. The first vehicle to pass the "traps" or end of the official track wins. The track extends sufficiently beyond the traps to allow vehicles to decelerate safely.
Drag races are frequently run in "heats." A heat is one completed race, and many take place in a single racing event. Winning a heat allows the driver to progress to the next heat. At the end of the day, the two best drivers compete against each other for the final win.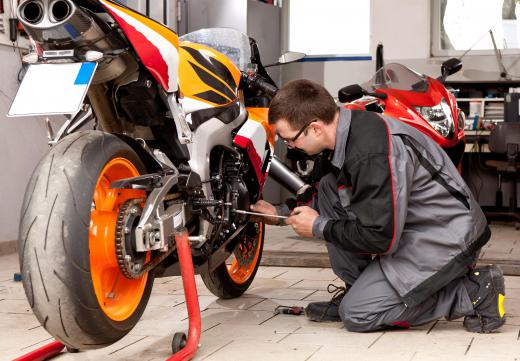 Autos and motorcycles used in drag racing have been modified in most cases, some heavily so. A vehicle is classified according to its modifications to ensure fair competition. Cars built for drag racing might be turbo charged, supercharged, or fitted with nitrous oxide systems. Bodies are made of light material to allow better power-to-weight ratios.
Among the top five professional classes of drag racing are Top Fuel Dragster, Top Fuel Funny Car, Pro Modified, Pro Stock and Pro Stock Bike for motorcycles. There are also popular classifications that fall outside professional races. Some of these are Top Alcohol Dragster, Top Alcohol Funny Car, Super Comp Quick Rod, Super Gas Super Rod, Super Street Hot Rod, Super Stock and Stock car racing. Smaller cars can also compete in the Sport Compact drag racing class.
Drag racing has a certain mystique that appeals not only to professionals, but also to adolescents coming of age. Without access to a drag strip, some teenagers with customized cars engage in street racing as an illegal and dangerous form of drag racing. Street racers find a strip of straight road and compete against each other. The movie American Graffiti (1973) featured a street racing scene, while The Fast And The Furious (2001) was based around a proposed subculture of street racers. Street racing is extremely dangerous and results in many senseless deaths each year.
AS FEATURED ON:
AS FEATURED ON:






By: albert schleich

Motorcycles can take part in drag racing.

By: John Heard

In drag races, two cars are pitted against one another and have a very short length of track to cover to see which has the superior acceleration ability.