There are many aspects of boat building that need to be mastered to build a safe and functional boat. Besides the most obvious skills such as woodworking or welding, skills in engine building and electronics are major factors in the boat-building process. If building a large craft, plumbing and communications come into play, and often local laws and legal issues must be adhered to to ensure a usable boat will result from the building process. Regardless of the size of the vessel, from a small river skiff to a battleship, boat building begins by laying the keel, or the bottom of the boat, and working towards the top.
For many skilled and enthusiastic boating people, the thought of building a boat is never far from their minds. There is a certain romance that a boater has when he has thoughts of building a vessel and sailing off into the far reaches of the world. For as long as people have wondered what lies across the water, there has been boat building. Constructing a vessel can come in the form of hollowing out a log and creating a canoe in its most basic form. Nearly all ancient cultures have evidence of boat building in their history.
The exploration of the earth has depended on the boat-building skills of many different races and countries. From the earliest Vikings to the Romans, Japanese and Spanish armadas, building boats has been a requirement of the advancement and strength of countries. The use of aluminum and steel has made possible some of the most incredible vessels of all time, however, wood remains the material of choice for most home boat builders making vessels from canoes to sailing yachts. In wood boat construction, finding a durable wood that is easily bent and shaped while retaining its strength is the key to a successful build. The final step is finishing the wood with a sealer that will ensure long life with no leaks.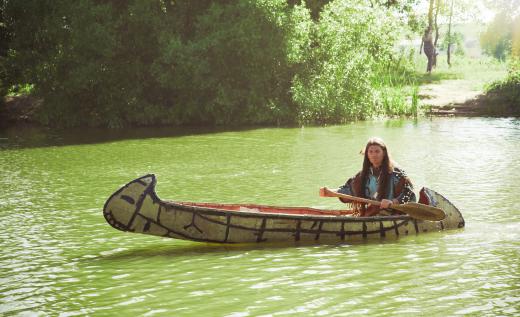 For most wooden boat building, small strips of wood are laminated to other small strips, often in alternating patterns of contrasting colored wood species such as ash and mahogany. Most wooden boats are shaped by heating and steaming the wood and then clamping it into position and allowing it to cool. Typically, in boat building, small skeletal structures are constructed in which the outer boards are attached with stainless steel screws. Once the hull is completed, it is sealed with a quality sealer and several layers of marine grade varnish.
AS FEATURED ON:
AS FEATURED ON:






By: acnaleksy

An independent boat builder may focus on finishing or repairing fiberglass hulls.

By: Shchipkova Elena

Native American groups built canoes, which are basic, open hulled boats, out of wooden planks or strips, animal skins, or hollowed out logs.