For years, outdoor enthusiasts interested in traveling long distances through the woods and forests chose backpacking as their mode of transportation. They carried their equipment in large backpacks and hiked for several miles with the intention of separating themselves from society and the amenities of everyday life – essentially, living in a self-contained manner. The idea also appealed to cyclists, and bicycle touring was born. Bicycle touring is the process of traveling long distances during multi-day trips with all equipment, clothing, and other belongings self-contained on the bicycle.
Bicycle touring has been around for many years, as cyclists began riding roads long distances with loads secured to the front, rear and sides to the bicycle. But touring is not limited to on-road traveling. Since the advent of the mountain bike, off-road bicycling gained steam and cyclists began designing different methods for securing loads to the bicycle, and have even made modifications to the bicycles themselves to accommodate touring. For example, off-road touring bikes often feature stronger frames intended to carry extra weight, and specific gear ratios to aid in pedaling extra weight.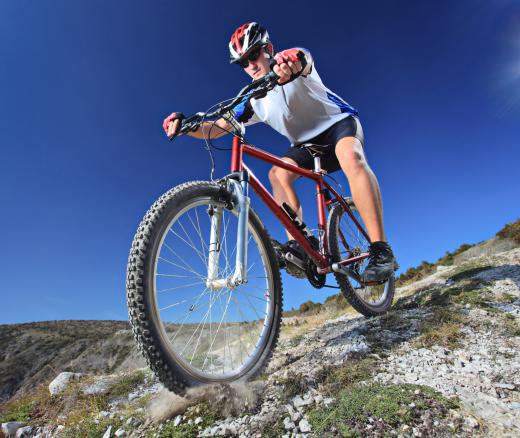 Pannier bags – or, bags that attach to the sides of the bicycle – are a common method for distributing the weight of equipment evenly throughout the bicycle. Because adding weight to the front of the bicycle can affect steering and control, pannier bags attached to the front are typically, but not exclusively, smaller than bags on the rear of the bicycle. By adding a gear rack to the rear of the bicycle, a rider can hang panniers on either side of the rear wheel and also stow an extra bag on top of the rack for more capacity.
Other methods of carrying gear while bike touring include the use of backpacks, and now more increasingly than ever, trailers. A few companies have developed strong, metal, single-wheel trailers meant to haul gear behind the bicycle, which causes less of a hindrance on steering and control. Some of these trailers come with suspension as well, to aid in control while off-road bicycle touring. The methods for hauling gear while bicycle touring is ever-changing, so be sure to check with your local bike shop for the most recent methods and recommendations.
AS FEATURED ON:
AS FEATURED ON:






By: Ljupco Smokovski

A bicycle tour may involve mountain biking.

By: .shock

Bicycle tours can take off-road routes or on-road routes.

By: chochowy

Some bicycle tours offer guided trips through cities.

By: Alexandr79

Bicyclists often ride long distances on trails that run through woods and forests.

By: Eléonore H

Cyclists need to remember to bring water with them to stay hydrated.