Auto salvage is the practice of removing and reusing automotive parts from inoperable vehicles, then safely disposing of the portions of the car that cannot be salvaged. This is performed at salvage yards, also called auto recyclers. This practice prevents the waste of usable parts and materials, and promotes environmental conservation by reusing vehicle components instead of disposing of them in a landfill.
Automobile manufacturing is the largest industry in the world. As such, it is also the one to generate the most waste. This waste places a considerable burden on landfills and, by extension, the environment. The salvage industry attempts to mitigate this problem by reusing any parts of the car that are still functional. As much as 76% of an average car's parts can be salvaged -- more than any other mass-produced complex item.
Environmentally sound auto salvage generally has three phases. The first stage, called pre-treatment, consists of preparing the vehicle for disassembly. This involves draining it of all fluids, such as oil, coolant, and fuel, to prevent them from leaking out while the vehicle is on the salvage yard and seeping into the groundwater. The gas tank, battery, and tires are also removed.
The fluids are reused in another vehicle, sold, or transported from the salvage yard to a recycling facility. The battery is likewise re-sold or recycled. Gas tanks, once drained, can be recycled as scrap metal. Tires can be reused in a variety of ways -- they can be re-treaded, used as ground rubber, or burned for energy at licensed facilities.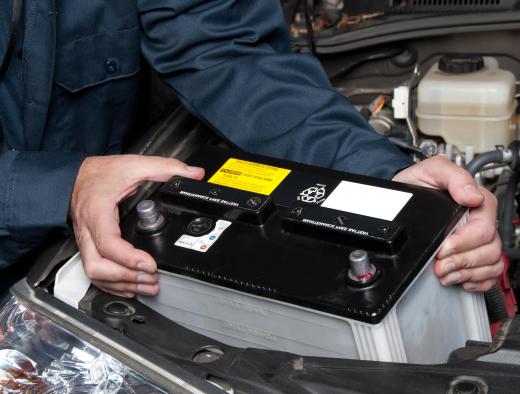 The salvage yard can then evaluate the remaining parts, and depending on their condition, repair or sell them. If an entire car is deemed repairable, it may be sold whole. Modern auto salvage yards use an electronic database to inventory all their parts and vehicles.
Examples of parts that are often sought out at salvage yards include entire front or rear ends, body panels or bumpers, motors, transmissions, wheels, and electronics, among others. Because buying used parts at one of these facilities is cheaper than buying them new, consumers can lower not only the cost of a repair, but also their insurance rates if the repair in question is an insurance claim. Auto salvage yards also provide owners of rare, out-of-production vehicles with a chance to obtain hard-to-find replacement parts.
Once all saleable parts are removed, an auto salvage yard contracts a crusher to flatten the vehicle's frame. The metallic portions can be sold, and the non-metallic parts can safely be put in a landfill.
AS FEATURED ON:
AS FEATURED ON:






By: Rodica Nelson

Tires at an auto salvage yard.

By: Sport Moments

Auto salvage involves reselling reusable parts taken from inoperable vehicles.

By: Kelpfish

The car battery is removed during the first stage of environmentally friendly auto salvage.

By: ashadrov

Transmissions can often be rebuilt and installed in another vehicle.

By: AustralianDream

Old tires can be recycled and salvaged in a variety of ways.