The term "ATV plastic" refers to the fairings attached to an all-terrain vehicle, or ATV. The fairings are made of plastic or other composite materials such as Kevlar®, and they are pieces which are bolted onto the frame of the vehicle to improve aesthetics, aerodynamics, and protection of vital engine components. The size, shape, color, and design of ATV plastic can vary significantly based on the type of ATV for which the plastic is designed, as well as on the rider's preferences for aesthetics and function. Of all the components on an ATV, the plastics are some of the most commonly broken.
Some types of ATV plastic may serve a particular function; rear mud guards, for example, will cover the rear wheels to prevent mud and other debris from shooting up and striking the rider or bystanders. If the ATV is to be made street-legal, such ATV plastic will be necessary in most cases. Front mud guards are also available to help prevent mud and debris from striking the rider during a ride, thereby obstructing his or her view. A hood may be designed to protect engine or suspension components from impacts from rocks or debris.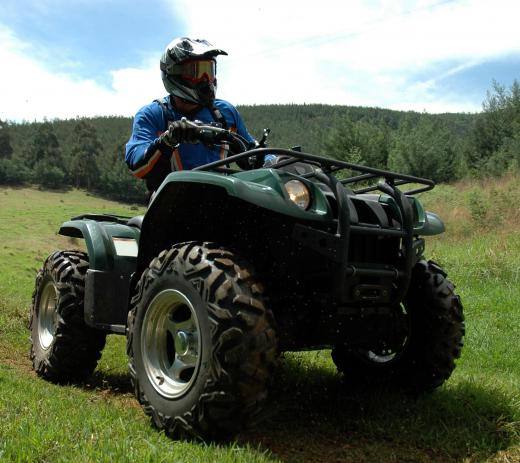 Most aftermarket ATV plastic will be designed to fit specific models of ATVs produced by well-known manufacturers. The design of the aftermarket ATV plastic may mimic the original plastic designs created by the manufacturer for those people who want to replace broken fairings with new ones that look identical. Other designs may differ from the original plastic designs so a rider can customize the look and function of the ATV. A rider can, for example, modify the color or aesthetic design of the ATV by changing out the fairing with plastic of another color. Fairings of different shapes can alter the look and function of the ATV.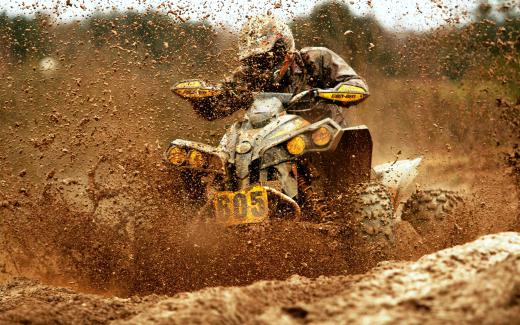 While the cost of ATV plastic is generally fairly affordable, the fairing pieces can be more expensive if they are quite large or intricately designed. Some ATVs, for example, have headlights, racks, or other accessories, and the plastics will need to be designed to accommodate such accessories. Larger pieces of plastic, such as exceptionally wide hoods, can also be much more expensive than smaller fairings or hoods. Racing ATVs usually feature much smaller pieces of plastic to keep the weight of the vehicle down, while utility ATVs generally have larger plastics for more coverage and protection.
AS FEATURED ON:
AS FEATURED ON:






By: stoffies

Of all the components on an ATV, the plastics are some of the most commonly broken.

By: Tomasz Sibilski

Plastic is used to protect ATVs from mud, rocks, and more.