What Is an Exhaust Flange Gasket?
An exhaust flange gasket is a round gasket that is commonly called a donut gasket. This gasket is often used to prevent exhaust leaks between the cast-iron exhaust manifold and the exhaust pipe of an automobile or truck. It is designed with a bevel on both sides of the gasket and a smooth, flat inner surface. The beveled sides of the the gasket help the gasket to seal by allowing the clamps to form an almost circular clamping force on the gasket's surface.
The material that comprises the exhaust flange gasket is required to withstand extreme heat and pressure. Many gaskets are manufactured from woven strands of a fire-resistant material, such as asbestos. The gasket is forced between the two mating surfaces of the exhaust components and squishes in slightly to fill any gaps and crevasses that could allow the exhaust to escape from the system. A bad gasket will create an engine sound that can range from a slight ticking noise to a very loud exhaust roar, depending on the severity of the gasket void. This is not only aggravating to listen to, but the bad gasket can also rob the engine of power and potentially damage some vital engine components, such as exhaust valves.
There are typically two bolts that secure an exhaust flange gasket in place. To change or replace the gasket, these bolts must be removed to allow the exhaust pipe to drop away from the exhaust manifold. Due to the constant heating and cooling of these bolts, rust commonly forms on the bolt threads, requiring a solvent to be used to remove or loosen the bolts. Once removed, the old exhaust flange gasket can usually be pried off of the manifold seat with a screwdriver. The new gasket is installed without the aid of a gasket adhesive or sealer, and the clamp is once again tightened into position.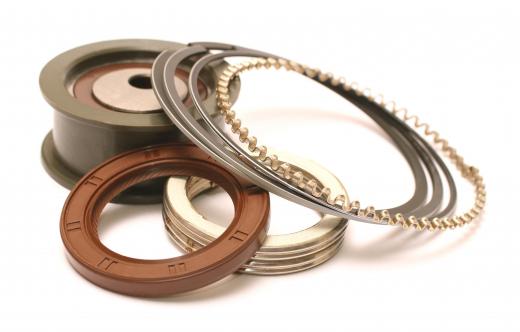 The materials used in the manufacturing of the exhaust flange gasket eliminate the requirement to re-tighten the flange bolts after bringing the gasket up to temperature. The earliest forms of this gasket would shrink after being heated and cooled, which required the gasket to be re-tightened once or twice after installing a new gasket. The gaskets are available in a number of different sizes, which makes it very critical to have all of the vehicle's pertinent information on hand at the time of purchase.
AS FEATURED ON:
AS FEATURED ON:






By: Wrangler

Nearly all cars and trucks use an exhaust flange gasket, which connects the exhaust pipe to another pipe or the manifold.

By: Grigorij Ivankov

Car and truck engines use many types of ring-shaped gaskets that help prevent leakage of gases and fluids.

By: vicky

People who have weak or faulty gaskets may notice their engines sputtering out or stalling more frequently.