What is an Axle Assembly?
An axle assembly typically consists of the axle, hub, bearings and seals. In a rear-axle drive vehicle, this can be, and usually is, a solid steel axle assembly. The axle is splined at the end that fits into the rear differential and has the axle hub at the other end, complete with a straight, solid-steel axle between. In a front axle assembly on a front-wheel drive or four-wheel drive vehicle, the axle is a two-piece design with a constant velocity (CV) joint positioned near the outer end of the axle. This CV joint allows the axle to pivot or bend as the front wheels are turned to steer the vehicle.
While the steel from which an axle assembly is made is very strong, the actual strength of a rear-wheel drive axle is typically related to the number of splines that are machined into the end of the axle. The greater the number of splines, the stronger the axle assembly. In a performance axle package, a 40-spline axle is typically stronger than a 28-spline axle. This is due to the increased area on which the load is placed. This is similar to holding a large weight with two fingers as compared to holding the same amount of weight with four fingers.
In a front-wheel drive axle assembly, the strength is often relevant to the strength of the CV joint. The nature of the axle turning in a steering application causes the torque of the engine to pass through the CV joint. In this scenario, the power of the engine is not passing through a solid steel axle assembly; it is instead passing through a very small area of steel and a bearing. In many CV joint designs, the unit is comprised of round steel balls riding in long sealed troughs. As the axle is pivoted in a turning application, the balls move to the side of the trough and allow the outer race to pivot around them, and the balls ride in the center of the trough while going in a straight line.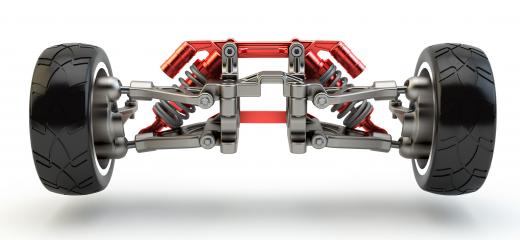 Most front-wheel drive axle assembly designs use both an inner and an outer splined area. The inner spline meshes with a spline in the differential, while the outer spline fits into the wheel hub. This design allows a steering axle to break while still retaining the wheel hub. If the hub were machined into the axle assembly in the same manner as a rear axle, the front wheel would fall off of the vehicle in the event of a broken axle.
AS FEATURED ON:
AS FEATURED ON:






By: Tyler Olson

A person repairing a CV joint on a car, which is connected to the axle.

By: Milos Stojiljkovic

Very simple front axle assembly models may not include much beyond the axle, axle housing, and bearings to allow the axle itself to rotate.