What is Adaptive Cruise Control?
Adaptive cruise control (ACC) is a technology which allows drivers to set a basic speed which the car will maintain on its own, with the car adjusts the speed according to conditions. ACC could be considered the grown up version of cruise control, a technology which has been used in cars since the 1950s. Using adaptive cruise control, drivers can set a target speed and allow the car to make adjustments as needed, without needing to touch the brake or the gas pedal. This technology was initially released in luxury cars, though several car manufacturers have begun including it as a feature on cars at a lower price point.
The idea behind traditional cruise control is that when a driver knows that a car will be traveling a long distance at the same rate of speed, as for example on the freeway, the driver can turn cruise control on, allowing the car to control the speed and focusing on driving. However, the drawback of cruise control is that if the driver needs to slow down to accommodate slower traffic, the driver will need to tap the brake, pulling the car out of cruise control. There's also a potential for collisions, as drivers may not be as attentive to the speed of surrounding traffic when the car controls the speed at which it travels.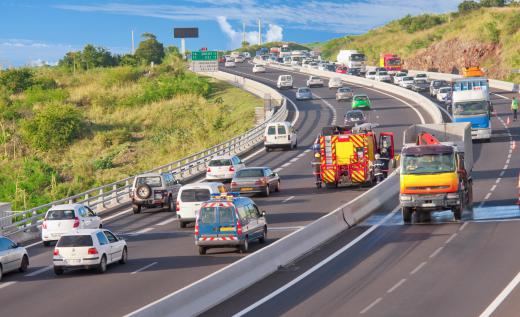 With adaptive cruise control, the car is fitted with a radar or laser which reads the traffic in front of and around the car. Once the speed is set, the car will maintain that speed, but if traffic slows or the car notes that the car in front is traveling below the set speed, it will automatically reduce speed for safety. Adaptive cruise control is often bundled with a collision warning and avoidance system which is designed to activate to prevent accidents.
Adaptive cruise control systems are one among many systems designed to increase vehicle efficiency and safety. When the car maintains its own speed, it can usually do so with less energy use, and being able to avoid collisions automatically also increases safety. Demonstrations of adaptive cruise control have shown that it can prevent many types of accidents on the road, although obviously it cannot prevent all accidents.
On some cars, adaptive cruise control is a standard feature which people do not need to pay extra for. On others, for a small additional fee, it can be added. Drivers may want to know that having collision avoidance systems can cut the price of car insurance.
AS FEATURED ON:
AS FEATURED ON:






By: Unclesam

Adaptive cruise control is a standard feature on some cars.

By: Africa Studio

With adaptive cruise control, the driver sets a desired speed that the car maintains on its own.

By: Eduard Stelmakh

Adaptive cruise control was initially released in luxury cars.

By: Anna Baburkina

Relying on adaptive cruise control may increase the chances of collision if a driver becomes inattentive.