A V4 engine is an internal combustion engine utilizing four cylinders operating in a V-type engine block. Typically found in smaller motorcycle and outboard boat motors, a V4 engine is composed of two sets of two pistons attached to a single crankshaft and firing on opposing cylinder banks. The V4 engine takes up less physical space than a straight or in-line four-cylinder would require, and many users of the V4 feel that the V-engine operates much smoother than the in-line variety. Many automobiles feature a V8 or V6 engine, and the V4 engine operates on the same principle, albeit on a smaller platform.
Both liquid-cooled and air-cooled versions of the V4 engine are readily available for use on a wide array of vehicles and machines. Motorcycles using the liquid-cooled style of V4 engines have been among the fastest and most reliable for decades. In 1983, the Honda V65 Magna with its V4 engine was the fastest production motorcycle ever made. The liquid-cooled V4 continues to be installed in newer motorcycle models from nearly every motorcycle manufacturing company worldwide.
Many outboard boat motor manufacturers have begun using the V4 engine as the platform on which to showcase their latest models. With four-stroke variants having as much or more power than the vehicle towing the boat to the water, these V4 outboard engines take up a minimum in room and displace a tremendous amount of power. The design of the V4 motor produces less torque transmitted through the steering gear, which equates to an easier handling boat. The smooth operation of the opposed four-cylinder motor allows the boat to be operated at very slow speeds without creating an abundance of vibration.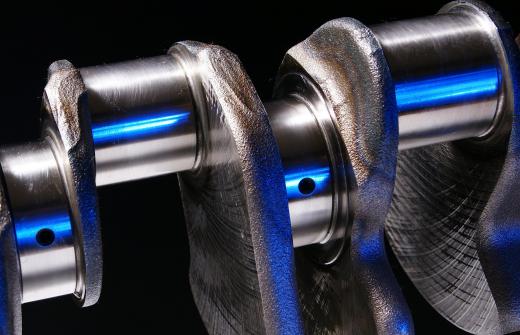 In air-cooled form, the V4 has been used on construction equipment in many forms. From generators to portable welders and roller-packers, the Wisconsin air-cooled engine has been a construction mainstay. By using an air-cooled version of the V4 motor, the equipment can be used continuously all day without fear of overheating in all types of climates. This can be beneficial for construction crews as it reduces down time due to overheating engines, as well as provides equipment which neither freezes in cold weather nor requires the added weight of a liquid-filled radiator. The V4 engine is often a good fit for job site equipment as well as powering vehicles for relaxation and fun-filled pastimes.
AS FEATURED ON:
AS FEATURED ON:






By: Andrey Armyagov

V4 engines are often found in smaller motorcycles and outboard boat motors.

By: dany

A V4 engine is composed of two sets of two pistons attached to a single crankshaft.

By: Christopher Dodge

Some motor boats use V4 engines.