A shipyard is a facility for building, maintaining, and repairing ships and boats which can vary in size from personal sailing boats to large container ships designed to travel around the globe. Usually, a shipyard is positioned in an advantageous location along a large inland river, harbor, or shoreline, and some historic shipyards have operated in the same location for hundreds of years. Numerous people work in a shipyard, including naval architects, engineers, electricians, and an assortment of other skilled tradespeople who contribute to the construction of a ship. A shipyard also has a large amount of specialized equipment.
At the most basic, a shipyard simply builds ships. However, most shipyards also maintain and repair ships that they have built, or ships caught in emergency situations which cannot return to their home shipyard. Typically, shipyards for civilian and military ships are kept separate, because of the security demands of the military, and the highly specialized ships built for most militaries. In either a civilian or a naval shipyard, the yard builds the ship from the ground up, creating the hull and configuring the interior of the ship to the owner's specifications before launching it and fitting the ship out. In a military shipyard, the ships are often covered to prevent opposing militaries from gathering information about them.
Along with both dry and wet docks, a shipyard usually has an assortment of cranes for lifting ship components. In addition, a shipyard has large land-based slips to lay the keels for their ships, and to build up the hulls, along with enclosed dust free environments and areas set aside for painting. Multiple ships are usually being built at once, allowing visitors to see ships in various stages of completion and repair. When ships are complete, they are launched, fully fitted, and then delivered to their owners.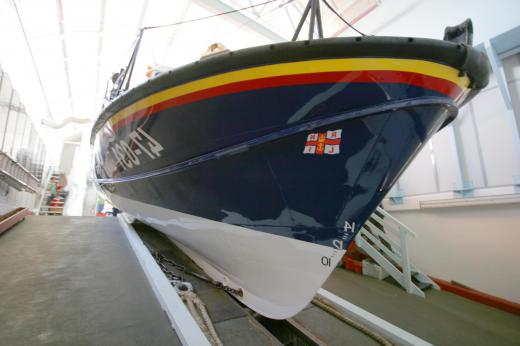 Some of the most famous shipyards in the world include Harland and Wolff's facilities in Belfast, Ireland, which has built a number of ships for the British navy, along with all of the White Star Line ships including the Titanic. On the European mainland, Blohm und Vass has operated in Germany since 1877, and Gdansk Shipyard in Poland has built ships since 1945, under a variety of names. In the United States, the San Francisco Naval Shipyard, also known as Hunter's Point, operated from 1870-1994, and the Portsmouth Naval Shipyard in Maine has operated continuously since 1800. Numerous other shipyards around the world, especially in Asia, meet the demand for ocean-going vessels.


By: spiritofamerica

Ships from the Age of Sail, such as barques and galleons, were usually built on slipways instead of drydocks.

By: vetkit

Cranes can often be found in shipyards.

By: RG

Various sizes of vessels, from commercial ships to personal boats, are repaired in shipyards.

By: David Woolfenden

Ships and boats are commonly brought to land using a slipway.

By: Riccardo Arata

Inland shipyards may specialized in the construction of barges and other unpowered, flat-bottomed vessels.