What is a Right Hook Collision?
Although it states on paper that bicyclists and motorists have equal rights to the road, that equation can change without warning and it's often the bicyclist who suffers most. One of the most common car-bike crashes is a scenario known as a right hook collision. A typical right-hook collision occurs when a cyclist is moving forward and a motorist suddenly makes a right hand turn into a driveway or side street in front of the cyclist.
The cyclist usually cannot see the motorist's turn signal, since he or she is positioned on the far right section of the road or in a designated bike lane. The motorist may not even see the cyclist before committing to the right hand turn, or else he or she may make a wide right turn after passing the cyclist. Since the cyclist is still moving forward at the time of the right hook collision, the bicycle generally strikes the passenger side of the vehicle square on.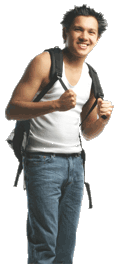 A right hook collision is said to make up 10% of all car-bike crashes, and is generally one of the hardest to avoid while riding on the extreme right hand side of the road along with heavy urban traffic. A motorist can often misjudge the speed of an approaching cyclist, and the cyclist may not be able to anticipate the collision until the very last second.
There are some suggested solutions to reduce the chances of a right hook collision on a busy roadway with numerous intersections. One suggestion is for cyclists to ride further left on the road to establish their presence to motorists who might otherwise turn right without taking a second glance to the side or rear. This might seem counter-intuitive to cyclists who have been conditioned to ride on the extreme right or on the sidewalk, but motorists often forget to check for cyclists before committing to a quick right turn.
Another way to reduce the chance of a right hook collision is for the cyclist to stop at intersections where sudden right turns are possible. Designated right hand turn lanes can be especially hazardous for cyclists going straight, since they must merge into a through traffic lane to clear the intersection for vehicles turning right. This may be a good opportunity to walk or carry the bicycle through the intersection and follow the pedestrian traffic rules until it becomes safe to enter the roadway again.
AS FEATURED ON:
AS FEATURED ON:






Man with a backpack