A passenger car is the vehicle on a train that carries passengers. In addition to providing seating for travelers, a train passenger car can also have a dining service, sleeper cabins, and baggage holding areas. Until they were withdrawn from service in 1977, American railway post cars also fell under the definition of a passenger car. The term "passenger car" can also refer to most automobiles found the roads, which are designed to carry passengers.
A rail passenger car can come in many different designs. The most familiar is the single-level open-corridor coach car. This type of car contains passenger seats in rows on either side of the vehicle, with an open corridor passing through the middle of the car, similar to the layout of a commercial airplane.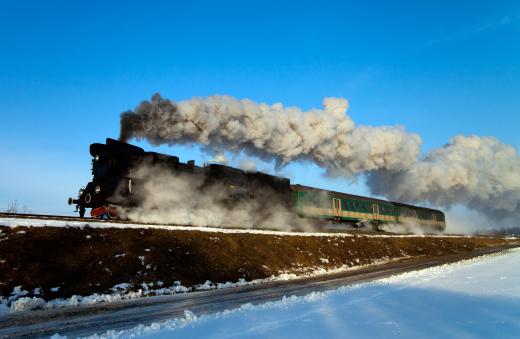 The second most popular variant is the single-level compartment car. In these vehicles, the seats are arranged in walled-off compartments, some of which may contain beds for overnight trips. A long corridor cuts through the far side of the vehicle to allow access to the compartments. There are some passenger cars that make use of both coach and compartment designs, with coach seating usually found at the ends of the vehicle.
In heavily populated cities or on popular routes, bi-level, or double-decker, passenger cars are often used. This design is usually seen in major cities because it doubles the capacity potential of the train without requiring additional vehicles. The idea behind these cars is to ease train traffic congestion without requiring new train lines.
Another feature that may be found in a passenger car is the observation car. The observation car is the last vehicle on the train, and usually contains windows placed in a "U" shape around the exterior of the car to allow passengers a view of the outside. Some observation cars contain a limited amount of seating, while others are quite large and may incorporate dining features and even sleepers. Most American railways stopped using observation cars in the 1950s, but they are still found on passenger trains around the world.
In very rare cases, railway passenger cars designed for long journeys may be equipped with entertainment options. Some passenger cars can even hold movie theaters and discos. These are increasingly uncommon as modern high-speed trains continually reduce average travel times.
Many modern passenger cars run on self-propelled electric power. These types of vehicles are most commonly seen in urban areas in the form of light rails and subways. In less-trafficked areas, especially in European countries, railway cars run on self-propelled diesel engines. Self-propelled power is gaining in popularity over locomotive-pulled varieties, although the latter can still be found around the world.
AS FEATURED ON:
AS FEATURED ON:






By: remik44992

Travel by passenger cars that were pulled by steam locomotives was the dominant form of interstate transportation in the United States from the middle of the 19th Century into the first half of the 20th.

By: Sailorr

Today, passenger cars are more utilized than ever thanks to subways and commuter trains.

By: sukruengshop

Single-level, open-corridor coach cars are a popular type of passenger car on rail systems.