A live axle is a shaft that laterally connects two wheels that are rotated along with the axle. It connects to the driveshaft, a component of a vehicle that transmits energy from the engine to the wheels to turn them. This axle design is simple, easy to implement, and easy to repair, but it has some significant drawbacks. Since the 1980s, the design has become increasingly uncommon, in lieu of others that are more efficient.
There are no constant velocity (CV) joints in a live axle. CV joints allow the wheels to turn at different angles while maintaining their speed. Live axles also don't have differentials, components that are designed to allow wheels to turn at different speeds. The lack of CV joints and a differential poses some substantial problems for vehicles with this type of axle. They are difficult to turn because both wheels turn at the same speed instead of allowing the inside wheel to slow while the outside wheel speeds up, and when these vehicles go over bumps and rough roads, the lack of a CV joint causes the whole axle to displace.
In addition, these axles add to the unsprung weight of a vehicle, the weight that comes into direct contact with the road instead of being lifted by the suspension. This can interfere with handling. Such axles were standard on vehicles until the 20th century, when different types of axle and suspension designs began to be developed to meet the needs of increasingly complex vehicles.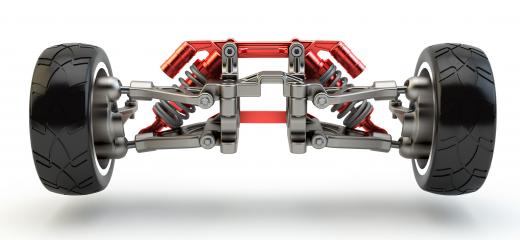 There are some advantages to the live axle design that make it popular for certain applications. Traction tends to be better, and the axle maintains a consistent height, both of which can be very useful traits for off-road vehicles. These vehicles are usually driven more slowly, making handling and cornering less of a concern, and the ability to have more traction can be very valuable. This style of axle is also used on some types of trucks.
Generally, the axle design a vehicle is equipped with is intended to meet the needs of situations the vehicle is most likely to encounter. Information about the axle and other systems in the vehicles can be provided by request for people who want to know more about the components of their vehicles. It is also possible to retrofit vehicles to change axle and suspension designs if people want to retain certain characteristics of a car while changing others.
AS FEATURED ON:
AS FEATURED ON:






By: Grafvision

Off-road vehicles may feature live axles.

By: Milos Stojiljkovic

A live axle design is simple, easy to implement, and easy to repair, but it has some significant drawbacks.