A headsail is any sail which is placed forward of the foremast. Headsails are used on many types of sailing craft, and a boat may have more than one headsail, depending on the size, the rigging, and how the boat is designed to be handled. One of the most common types of headsail is a staysail, such as a Genoa or jib. Other types of sails flown before the foremast include spinnakers and gennakers, which are used in different types of sailing conditions.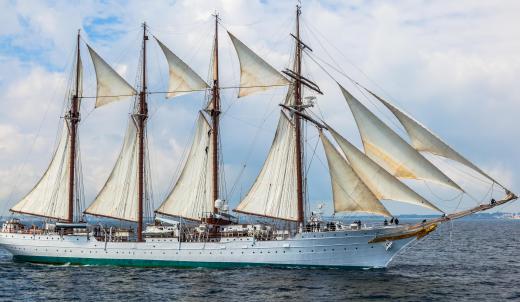 It is easy to identify a headsail, even if one is not a sailor, because it will be clearly visible when one views the boat or ship. The foremast is simply the mast situated furthest forward in the boat, which means that once one has located this mast, any sail in front of it could be considered a headsail. People may note that depending on the sailing plan and the conditions, the headsail can be flown in several different ways.
Like other sails, a headsail can be furled or brought down as conditions change. Adjusting the positioning of the sails is an important part of retaining control of a sailing vessel while also taking advantage of prevailing conditions. If the sails are set right, the boat can move at a good clip, while improperly set sails can hinder progress or potentially endanger a ship and the crew. This is especially true in stormy conditions, where proper sail management is important to avoid damage.
The materials used to make a headsail can vary. Canvas was the historical material of choice, but today nylon and other fabrics may be used. As long as the fabric is durable, it is usually suitable. Headsails can also be decorated with colors and designs, if desired, or left plain, depending on taste. Logos are sometimes used on sponsored vessels, while colored sails may be used on some ships to create more visual interest or to stay true to history.
Historically, large sailing vessels kept spare sails, canvas, and other materials for repairs so that if a problem emerged, it could be addressed quickly. Repair tasks could be performed by a specially trained member of the crew or a sailor, depending on the situation and the size of the ship and crew. It was often critical to be able to perform repairs quickly to take advantage of prevailing winds and other conditions which could impact how quickly a vessel finished a journey.


By: Alan Reed

The foremast is simply the mast situated furthest forward in the boat.

By: David Acosta Allely

Boats and ships may have more than one headsail.