A head tube is a part of the frame of a motorcycle or bicycle. It is the location where the fork of the motorcycle or bicycle attaches to the frame, and the head tube usually houses bearings that allow the fork's steer tube to move freely. The head tube is also often where the head badge — a decoration to identify the manufacturer — is placed, though this is more common on bicycles than on motorcycles. The tube is welded or otherwise secured to the rest of the frame at the joint of the top tube and the down tube. The frame materials vary depending on what type of bike the tube is part of.
Motorcycle frames are very often made of steel for strength, so a motorcycle's head tube is often steel. Bicycle frames, on the other hand, can be made from a variety of materials for strength as well as weight savings. Steel is commonly used, as is aluminum, chromoly — steel alloyed with chromium and molybdenum — titanium, scandium, and carbon fiber. If the head tube is made of carbon fiber, an aluminum or steel insert is often built into the tube for extra strength and durability. Regardless of the material used to make the head tube, bearings must be inserted into the tube in order for the fork to move freely from side to side, making steering possible.
The angle at which the head tube is welded or otherwise affixed to the frame dictates the fork's rake, or the angle at which the fork protrudes from the frame. The rake will affect the steering and shock absorption of the fork, and if the rake is too severe or too lax, the fork may put excess pressure on the joint between a head tube and the other tubes of the bicycle, resulting in cracking, bending, or loss of control of the vehicle. Most frames are carefully designed with the rake of the fork in mind; chopper bikes very often have a long rake for style and visual appeal, while a sport racing bike will have a very tight rake for quick steering.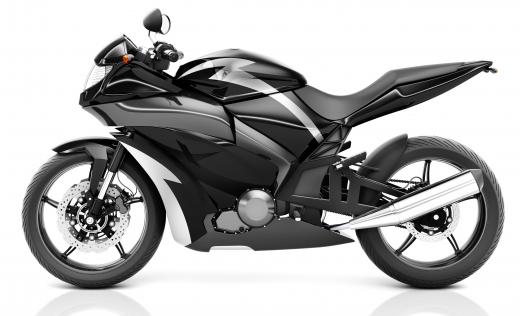 The bearings inserted into the tube are part of a unit called a headset. On bicycles, the headset includes bearing cups that are pressed into the tube, the bearings themselves, and bearing races that press on the bearings when the unit is tightened down. The headset may be an external unit that protrudes from each end of the head tube, or it may be an internal unit that presses completely or nearly completely inside the tube.
AS FEATURED ON:
AS FEATURED ON:






By: Andrey Armyagov

A motorcycle's head tube is located where the fork of the vehicle attaches to the frame.

By: Rawpixel

Motorcycle frames are often made of steel.