In an effort to reduce dependency on petroleum-based gasoline, some car owners have installed special conversion kits which allow their diesel engines to burn waste vegetable oil (WVO) along with standard diesel or biodiesel fuel. Such an ecologically sensitive vehicle is often referred to as a grease car. A grease car uses filtered vegetable oil, often obtained at little to no cost from local restaurants, to power a slightly modified diesel engine. The primary modifications made to a grease car are a new storage tank for the vegetable oil, additional fuel filters and a heater to bring the oil up to operating temperature.
Many would-be grease car owners are impressed by the lower overall emissions and improved fuel efficiency of a biodiesel grease car. Biodiesel fuels and waste vegetable oils do emit some toxic gases into the atmosphere, but not in the concentrations of standard gasoline exhaust. A grease car may also require standard diesel fuel during the start-up process, since the vegetable oil may not readily ignite at lower air temperatures until warmed by a heater unit. Many grease car owners report only occasional trips to the gas station for standard diesel fuel, however, relying primarily on steady supplies of waste vegetable oil from local vendors.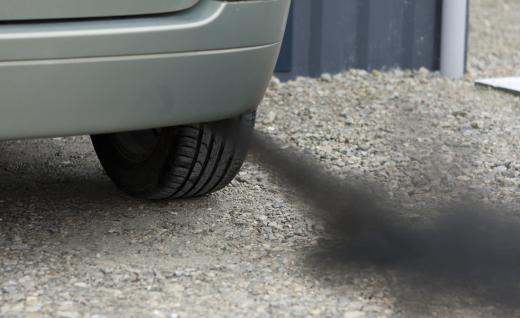 One difficulty grease car owners face is a regular supply of suitable vegetable oil. In general, a would-be grease car owner should first negotiate with local restaurants and other food establishments to pick up their waste oil for free. Many restaurants contract with local disposal companies to discard old vegetable oil, so the owners may agree to such an arrangement as a cost-cutting effort. Transporting large containers of vegetable oil from a restaurant to a private residence may prove logistically challenging, however, so a grease car owner should work out these details before investing in a conversion kit. The oil must also be filtered, which means investing in a commercial filtering system or creating one from scratch.
The conversion kit itself can be relatively expensive, up to a few thousand dollars (USD) for high-end systems. Professional installation is not strictly necessary, but many people find it helpful. A home mechanic with the proper tools and equipment could most likely install the conversion kit over the course of a weekend. This is assuming a suitable diesel vehicle can be found, since many car manufacturers have slowed or eliminated production of new diesel passenger cars. An older diesel vehicle from the 1980s or 1990s may prove to be the ideal candidate for grease car conversion.
It is also important to keep in mind that the Environmental Protection Agency (EPA) does not currently recognize waste vegetable oil as a environmentally safe fuel. There may be a number of local regulations concerning the storage, filtering and disposal of waste vegetable oil, so a grease car owner should make himself or herself aware of any legal responsibilities or liabilities in case of an accidental spill or discharge. Competition for a limited supply of waste vegetable oil among grease car owners could also affect the cost and availability of fuel in the future. It is also true that a biodiesel car running entirely on WVO can indeed smell like french fries, but many grease car owners consider the smell to be a small price to pay for fuel independence.
AS FEATURED ON:
AS FEATURED ON:






By: Mastrofoto

Grease cars produce less harmful emissions than standard gasoline cars.

By: Gabriele Maltinti

Many grease car owners report only occasional trips to the gas station for standard diesel fuel.