A dropped axle is a straight front axle that has been altered or built to drop a vehicle's ride height. It was made popular in the 1950s, and the trend continues to be a popular alteration and styling trick on modern-era customized vehicles. Originally created by heating and stretching the original solid beam axles that came from the vehicle's manufacturer, a dropped axle provided the custom stance of a vehicle while retaining the original ride quality. The art of stretching an original beam axle while providing the proper geometry of the axle was made less costly by the addition of the round tube, dropped axle. This axle uses a section of round tube equipped with custom forged axle ends manufactured to the proper height and welded into the ends of the round tube.
Used on nearly every type of vehicle from the 1930s-era roadsters and coupes to modern hot rods and pickup trucks, the dropped axle is often the most cost-effective method of lowering a vehicle's stance. This is made possible by eliminating the need to replace other costly suspension pieces, such as shock absorbers and springs. The dropped axle retains all of the original suspension components since the only alteration to the factory suspension is that the axle ends are stretched, thereby pulling the tires higher up and away from the road. This makes the vehicle sit lower and places the front suspension nearer to the ground.
Occasionally, with an extreme dropped axle, some modifications are required to allow the steering linkage to be operated below the bottom of the vehicle's frame. Accomplished by adding spacers between the tie rod ends and the tie rod mounting points on the front spindles, the original geometry of the front suspension is left virtually untouched, retaining the original factory ride quality of the vehicle. The success of the dropped axle has lead to the introduction of dropped spindles to be used on independent front suspensions, which achieves the lowered stance without altering ride quality or handling.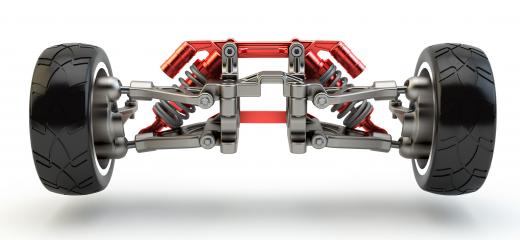 While the round tube dropped axle is being manufactured by several companies to fit nearly all of the most popularly customized vehicles, the number of suppliers who can deliver a dropped axle from an original beam axle are declining. Very few sources are able to create the drop from the original straight axle style that helped to foster the long-lasting trend. When a qualified producer who can apply the required drop to an original axle is found, it is not uncommon for a lengthy turn-around time to accompany the delivery of the customized axle.
AS FEATURED ON:
AS FEATURED ON:






By: g0b

A pickup truck with a dropped axle.

By: Milos Stojiljkovic

A dropped axle is a straight front axle that has been altered or built to drop a vehicle's ride height.