What is a Car Vacuum Cleaner?
A car vacuum cleaner is a device used to sweep the carpet in a vehicle. It is usually lightweight and portable, so it can be easily transported in the trunk or glove compartment. Some models may have an adaptor on one end that plugs into a power outlet in the car. It may also have a smaller nose so that it can be used in a compact area.
Many models are somewhat oval-shaped, with a flat front section. The top of the machine may have a curved handle protruding from it. A typical hand-held vacuum cleaner is around 14 and 1/2 inches (36.83 cm) long, and 3 and 3/4 inches(9.53 cm) wide. It is normally just over 5 inches (12.7 cm) high, from the bottom of the unit to the top of the handle.
There is usually a removable cup on the car vacuum cleaner that catches the dirt. This piece typically slides off so that it can be emptied whenever it gets full of debris. This part is ideally made of heavy plastic and may be clear so that the user can tell how much dirt has been collected.
Often a car vacuum cleaner can function as either a wet or dry vacuum. This means they could be useful in cleaning up small spills that might occur. Even so, they typically can not absorb large amounts of liquid. Vehicles that have water damage from a flood might need to have the liquid removed with a larger vacuum suited for this purpose.
The power cord normally protrudes from the back end of the car vacuum cleaner. It may be around 10 feet (3.05 m) in length. Models that have an adaptor that plugs into a car's power source, or the cigarette lighter, may be around 6 feet ( 1.83 m) long.
Some of these car accessories come with attachments for getting into tight spots, such as the areas between the seats. Most of the time, these accessories slide into the opening of the nose piece and lock into place. They can usually be removed easily whenever they are not needed.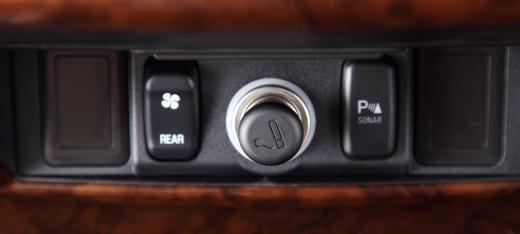 A car vacuum cleaner can assist a person keep their vehicle clean. It can be used almost anywhere, making it very easy to sweep the carpet of an automobile whether at home or at work. People who keep the interior of their cars clean may find it retains its value longer and is worth more when traded in for a newer model.
AS FEATURED ON:
AS FEATURED ON:






By: pixelia97

A car vacuum is unsually lightweight and portable.

By: jackmicro

Some people keep a handheld vacuum in their car to help with cleaning.

By: aris sanjaya

Some car vacuum cleaners may be plugged into the vehicle's cigarette lighter for power.

By: lukasvideo

Someone who eats a lot in his or her car may require frequent use of a car vacuum.