A car battery is a physical reserve of energy within the car system. The battery is usually charged by an alternator — a device that converts the mechanical energy from the engine into electrical energy. This energy is then used to prompt reactions within the electrolyte of the battery, which is most commonly composed of lead oxide plates submerged in a mixture of sulfuric acid and water. When a battery is in use, the sulfuric acid reacts with the lead oxide plates, to form lead sulfate. Recharging the battery involves reversing this reaction, which allows it to store energy chemically.
The battery in a car is used to power the vehicle during ignition and provide energy for the lighting system. In gasoline engines, it is also used to ignite the fuel, so this type of engine cannot work without a battery. Diesel engines may work without batteries, if the initial electrical energy is provided at ignition. The battery is also used to provide traction energy for electric vehicles.
There are several types of car batteries available. The most common is the flooded type, which is basically an arrangement of lead plates immersed in sulfuric acid in a pseudo-open reservoir. This type requires regular topping up with distilled water to compensate for the water lost as hydrogen and oxygen gases during the electrolysis process. A slight modification of this results in a different type of battery known as a sealed battery, which is basically a flooded battery which is sealed so that no water can be lost.
A valve regulated lead acid (VRLA) battery is also sealed. One type has safety valves that allow for the safe escape of hydrogen and oxygen gases generated during charging. There is another type of VRLA battery that doesn't have safety valves and instead has an additional catalyst surface on which the two gases recombine to form water again.
The glass mat kind of car battery is radically different from the VRLA, sealed, and flooded types of batteries. Its composites are boron silicate glass mats saturated with electrolyte between the plates. By using the recombinant technology, they don't lose hydrogen or oxygen, and they also store charge for a much longer period, losing only 1% to 3% monthly. They are usually two to three times more expensive than the normal flooded batteries, however. Another option is silica gel batteries, but due to their slow recharge rates, they are not common in cars.
Two other electrolytes are used less commonly in automotive batteries. One is the nickel metal hydride (NiMH), which packs a relatively higher energy within a unit of space. This is also referred to as high energy density. NiMH batteries can be easily recycled, since they do not contain toxic metals. Lithium-ion (Li-ion) batteries also has a high energy density. They also self discharge the least over a period of time.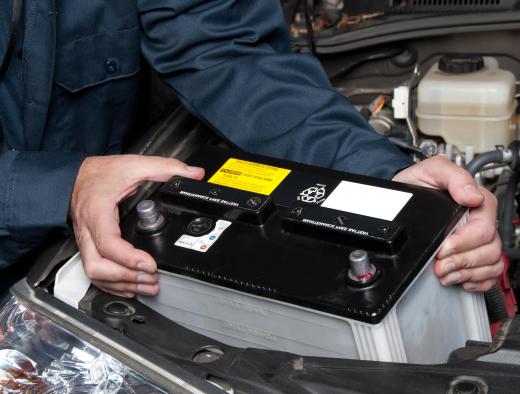 When storing sulfate batteries, it is important a person to ensure that they are always charged, preferably to the maximum. Discharged sulfate batteries tend to degrade by sulfating, which involves the formation of large lead-sulfate crystals in the batteries. This hinders the normal reverse reaction that defines recharging. The batteries should be stored in a cool place, as warm temperatures result in a higher rate of discharge and corrosion at the contact plates.
AS FEATURED ON:
AS FEATURED ON:






By: Avantgarde

Car battery.

By: zest_marina

Car battery in situ.

By: redav

A car battery is usually charged by an alternator.

By: Kelpfish

Car batteries power a vehicle's lighting system.

By: sutichak

A drained car battery can be started by attaching jumper cables to the battery of another car with a charged battery.