What are the Different Types of Tire Damage?
Tire damage is a broad description used to describe any kind of problem that could negatively affect the optimal performance of car tires. It can be caused by a variety of factors, ranging from poor storage to improper usage, but perhaps the most common reasons are under-inflation or poor driving habits. There are three main types of tire damage; sidewall damage, bead damage, and tread damage, and each of them could lead to serious injury for the driver if warning signs are neglected.
The most important role of a tire is to help it remain in motion by providing a solid grip on roadways, and this grip is instrumental in providing traction during acceleration or when braking. Tread damage means that the treads are either balding or punctured, and the resulting effect could cause a vehicle to become unstable. A major cause of tread damage includes excessive usage of the tire, poor braking systems, and driving on rough trails where debris such as nails or sharp objects are present. These issues can be resolved by having tires changed according to the manufacturer guidelines and inspecting them frequently for roadside punctures.
Another common type of tire damage occurs within the sidewalls, and cracks can often form due to a variety of reasons. Chemicals used during tire cleaning or the use of pressure washers are a few of the primary causes, but overheating of the tire due to lack of air can also lead to sidewall cracks. Hitting potholes or debris at high speeds is another common cause of sidewall cracks, and these types of dangers can often lead to blowouts that cause serious accidents. The above problems can be avoided by maintaining a safe tire pressure, driving with caution, and avoiding the use of chemicals that are not designed for tires.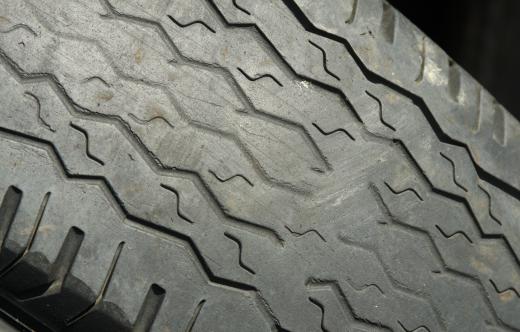 Examining the point of contact between the tire and the rim also marks a very significant area when talking about tire damage. Should the rim and the tire fail to link properly at the beading, there will likely be damage that could result in a rapid drop of tire pressure, causing an explosion. Also, the risk is much higher when dealing with multi-piece rims since they stand a greater chance of snapping and causing damage in the process. This kind of damage can be prevented by ensuring the tires are kept within the recommended alignment and the correct tire size is fitted to the rim.
AS FEATURED ON:
AS FEATURED ON:






By: Martin RICHIARDONE

Tires need to be regularly checked for punctures.

By: Marcel A. Hasübert

Tread damage to a tire is often the result of overuse.

By: zuchero

Using a pressure washer on tires can damage their sidewalls and cause cracking.

By: Africa Studio

Low tire pressure can quickly damage tires.

By: Unclesam

Maintaining the appropriate air pressure in tires is important for both safety and fuel efficiency.

By: iTake Images

Car tires can be easily changed with the use of a simple car jack.