What Are the Different Types of ATV Fenders?
There are three main types of all-terrain vehicle (ATV) fenders available for ATVs: the original or stock fenders, extra wide fenders and narrow fenders. All of the ATV fenders are designed to perform a specific purpose, from extra mud and water control to less wind resistance while racing. There are also two distinct types of aftermarket ATV fender materials: regular and racing weight plastic. The regular plastic is comparable to the stock factory plastic, while the racing-weight plastic is lighter and less rigid. Most ATVs use a multi-piece fender unit that allows an owner to replace ATV fenders as front or rear units, with some models actually using an individual fender at each corner.
Both three- and four-wheeled models of the ATV use plastic fenders exclusively on both front and rear applications. The use of plastic ATV fenders allows the fenders to absorb the impact of contact with another ATV, trees or rocks without breaking. The plastic tends to bend rather than crack and break, reducing the cost of replacing ATV fenders frequently. Original factory fenders are typically designed to be as wide as the ATV's tires, with many fenders also utilizing extended fender flares.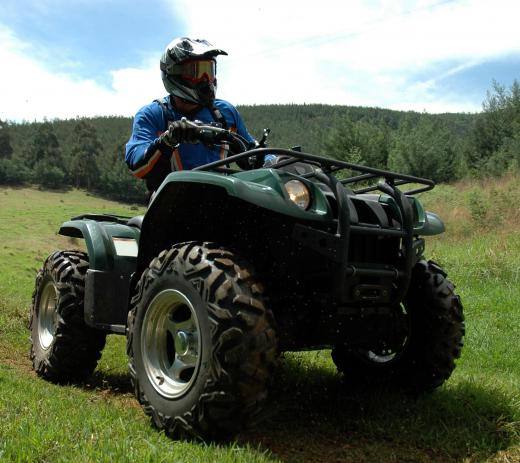 As the ATV became more and more popular in competition events, the ATV fenders began to become smaller. The owners would commonly trim the plastic fenders so that the fender would not become hooked onto another racer's ATV. The reduced fender size also produced less wind resistance, which allowed the ATV to go faster on less fuel. Eventually, manufacturers began offering race-weight ATV fenders that weighed less than the original plastic. Less weight equates to faster speeds and longer jumping abilities for ATV riders.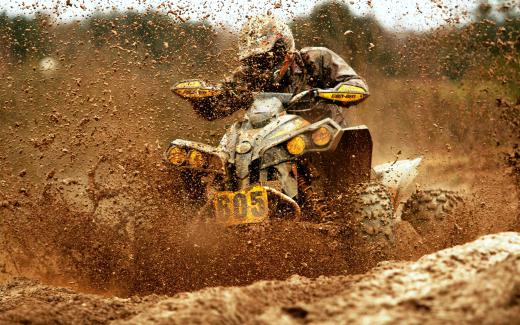 Another function of the racing-weight plastic is its ability to be easily broken. The plastic is designed to allow the fenders to be torn away upon incidental racing contact. This reduces the number of riders who fall out of races due to being hung up on another ATV. Conversely, some ATV fenders are manufactured to be even wider and heavier than the factory originals. These fenders add additional protection against mud, stones and other debris thrown up by the tires. The larger fenders keep debris contained within the fender area instead of throwing it up onto the rider and the ATV's engine when traveling through swamps and wet areas.
AS FEATURED ON:
AS FEATURED ON:






By: stoffies

Four-wheeled ATVs use plastic fenders exclusively on both front and rear applications.

By: Tomasz Sibilski

Racing-weight plastic fenders are lighter and less rigid.