What Are the Different Types of ATV Engines?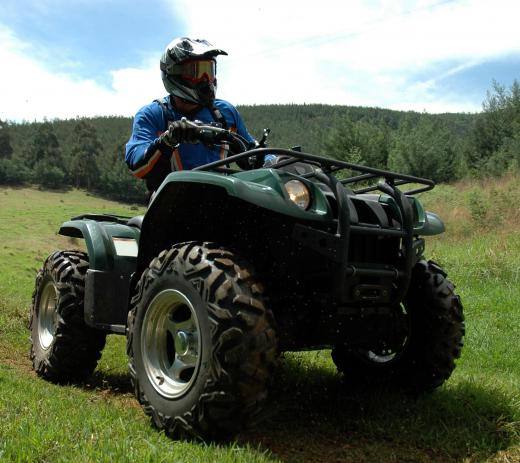 An all-terrain vehicle (ATV) can be equipped with one of several engine designs. The ATV engines are available in both two- and four-stroke designs, as well as air- and liquid-cooled versions. There are also single- and multiple-cylinder ATV engines used in the various designs, which can be carbureted or fuel-injected, depending on the model. Other variables found in ATV engines include displacement, with the typical engine being 50 to 800 cubic centimeters (CC). While the most common type of fuel used in an engine is gasoline, some of the smaller ATV designs can be purchased with electric motors or battery power, and some even have diesel fuel capabilities.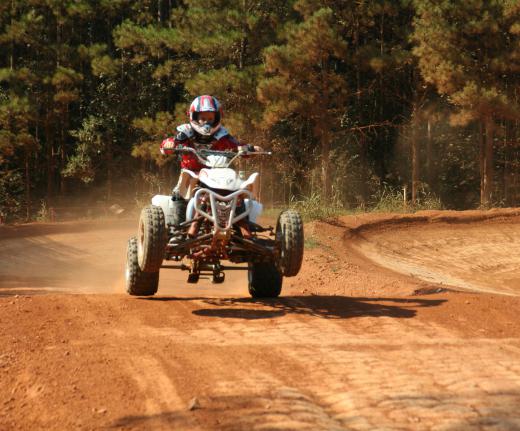 Many purchasers of a new ATV do not give a great deal of thought to the assortment of ATV engines available to choose from. This can be a serious oversight, however, since the ATV engines often mandate the type of riding that will be best suited to the ATV. Early versions of ATV engines were typically all two-cycle versions, which require oil to be mixed in with the fuel. This can be accomplished by one of two methods: mixing the two-cycle oil with the gasoline in the fuel tank or by oil-injection. The oil-injection is usually the preferred manner and allows a rider to fill the fuel tank with fuel directly from any fuel pump, provided there is sufficient oil in the injection tank.
The four-cycle ATV engines allow the rider to use gasoline directly from the pump without the need to add oil. This is similar to the way the average automobile engine works. Other advantages of this type of engine are reduced pollution causing emissions, less exhaust fumes for the rider to breathe and a wider power-band. The four-stroke engines offer the rider a wider range of power that, unlike the two-stroke engine, can be found at all points through the engine's revolutions per minute (RPM). The two-stroke engine typically has a power-band somewhere near the upper middle RPM range, where the engine produces the peak amount of power.
It is common for specific ATV engines to be offered only in specific ATVs, with no option for the purchaser to select a specific engine in a new ATV. The engines are often geared towards certain machines and the larger engines are placed in the better optioned machines. Four-wheel drive models typically have the largest engines due to the plowing, pulling and off-road climbing typically associated with the use of these machines. Some of the most powerful ATV engines are destined to be powering the R series machines that are prone to racing and competition use.


By: stoffies

ATV engines often mandate the type of riding that will be best suited to the ATV.

By: Kelly Lambert

ATV engines can be powered by gasoline or in some cases even diesel fuel.