What Are the Best Tips for Replacing a Car Title?
Replacing a car title is usually a simple process that involves filling out some forms and paying a small fee. The necessary forms are usually available from the local licensing agency. These forms normally need to be filled out with the name of the owner and all relevant identifying information about the vehicle. It may also be necessary to have the forms notarized before returning them to the licensing agency with the appropriate fee. The process for replacing a car title can differ from one location to another, so it is always a good idea to verify the exact steps with the relevant agency.
A car title is often the way that legal ownership of a vehicle is determined, though they are not used in every country. These titles are handled in the United States by state departments of motor vehicles (DMVs), each of which has its own unique process and requirements. In normal practice, a DMV will mail a title out when it receives notice that a vehicle has been sold. If this document is ever lost or destroyed, the DMV must typically be contacted in order initiate the process of replacing a car title. Other countries may have different processes or not use titles at all.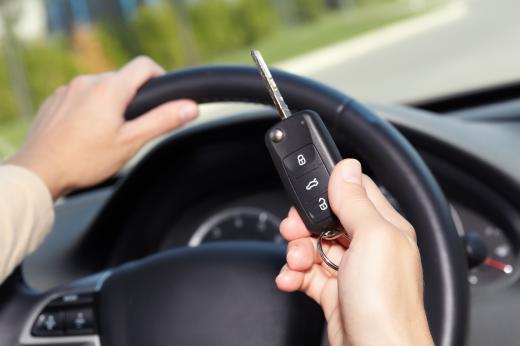 The first step in replacing a car title is typically to contact the DMV for the appropriate forms. This may include a request for a new title or an affidavit of lost title, and an odometer declaration may also be required for newer vehicles. In many cases, the necessary forms can be obtained online though the official DMV website. The forms typically require the legal name of the vehicle owner, along with any name changes that have occurred since the original title was issued. A variety of information about the vehicle may also be required, such as the license number and vehicle identification number (VIN).
In many cases, the process of replacing a car title may take up to a week after the proper forms have been filled out. It is not always necessary to have a title in hand to sell a vehicle. Many states allow a vehicle to be sold with a notarized affidavit of lost title in place of the actual document. If this is allowed, it will typically be stated on the same website where the form itself can be obtained. There may be stiff penalties for lying on this type of affidavit, but some people may still prefer to have a title in hand before paying for a vehicle.
AS FEATURED ON:
AS FEATURED ON:






By: Kurhan

State DMVs can help replace lost car titles.

By: Iurii Sokolov

Replacing a car title may require notarization.

By: Marzky Ragsac Jr.

Replacing a car title may include completing an affidavit of loss.

By: emmeci74

An odometer declaration may be required to replace a car title.