Disc brakes, like any other style of brakes, are used to slow or stop movement. They work by applying friction and pressure that slows the movement of a wheel or stops it altogether. Also known as rotors, discs are attached to the wheels or in some cases are attached to the axle.
Disc brakes are generally made of ceramic materials or cast iron. They are powered in different ways, from electromagnetic, hydraulic, and pneumatic, to mechanical. When disc brakes are engaged, friction is created, causing the brake pads inside the brake calipers to push against the disc.
This causes movement to slow and can cause the wheel to stop moving entirely. These processes occur when you apply pressure to the brake pedal in your vehicle. While disc brakes have been used in vehicles from early on, they were not the most common type of brake systems. They were used mainly for sports cars or other high performance vehicles due to the heightened demand for stopping power in such vehicles.
Today, disc brakes are more common than drum brakes. They have also found uses in sporting equipment such as mountain bikes. Since there are various types of disc brakes, certain types work better for certain uses, equipment, or vehicles.
For example, with racing or biking, slotted or drilled discs may be preferable as they allow air, dust, moisture, and gas to be released through openings in the disc. Otherwise, a film can form on the discs, which can create too much heat. This can lead to less than optimal performance as well as cracks and splits if the disc brakes have no form of ventilation.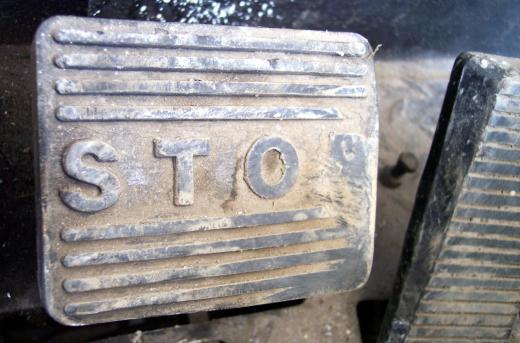 When compared to drum brakes there are some important elements that make disc brakes the preferred option. Better heat resistance, a greater ability to recover after becoming wet, and the ability to apply proportionate force based on pressure applied to the brake pedal are key considerations. Still, in some light vehicles there may be a combination of disc brakes in the front and drum brakes in the back. Since front brakes tend to do most of the work, it makes sense that disc brakes are used in this location.
Utilizing both types of brakes allows manufacturers to keep costs down as well as helping create a simpler system for parking brakes. Weight must also be taken into consideration. Drum brakes add less to a vehicle's overall weight than disc brakes do, so this combination can be quite effective depending on the type of vehicle.
AS FEATURED ON:
AS FEATURED ON:






By: Lisa F. Young

Disc brakes are usually made of ceramic materials or cast iron.

By: iTake Images

Disc brakes can be changed easily with the use of a simple car jack.

By: timur1970

A car's hydraulic systems are initiated by depressing the brake pedal.