What are Different Types of Car Washes?
The most common types of car washes are tunnel washes that use brushes and blowers to clean the car; self-service car washes in which the driver can park the car and use a high-powered water sprayer to clean the exterior of the car without the use of brushes; and brushless car washes, in which the car is guided through a tunnel by a conveyor belt, but no brushes are used to clean the car. Instead, high-powered sprayers and dryers are used to clean the car's exterior. Hand-wash facilities are less common as a professional business; these washes feature employees who will wash the car by hand from start to finish.
Tunnel washes are perhaps the most common type of car washes available. The vehicle is driven into one end of the tunnel, at which time a conveyor system grasps the wheels and pulls the car forward at a steady rate. As the car goes through the tunnel, a series of cleaning implements begin washing the car; a rinse usually comes first, as sprayers spray clean water onto the car. Then soap is sprayed onto the car. A series of brushes will then descend upon the car and clean all surfaces. A spray system may also clean the undercarriage of the car as the same time. Once the car reaches the end of the tunnel, a high-powered fan will dry it.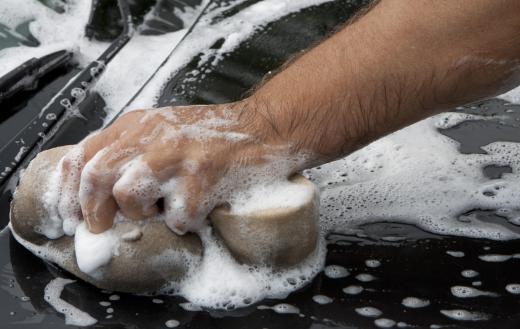 Brushless car washes work in a similar fashion as tunnel washes with brushes, except no contact is made with the car at all. High-powered water jets and specific chemicals are used to clean the car instead. Brushless car washes were developed to avoid scratching the car's finish and to avoid doing damage to the car's components, such as the radio antenna. Most brushless washes end with a blow dry, though some facilities hire people to hand-dry the cars as they come out of the tunnel.
Self-service washes allow a car owner to wash his or her own car without going through a tunnel system. Such washes feature an enclosed area with a drain and a high-pressure hose system that allows the user to spray water at the car. The pistol-grip hose also features a soap setting that allows the user to spray soap onto the car. The user can then rinse the soap off with another spray nozzle. Results from such a wash will be mixed, and the car will be left to air-dry after the wash is complete, which may lead to streaking or spotting.
AS FEATURED ON:
AS FEATURED ON:






By: whitewizzard

Employees clean a car by hand at some businesses.

By: Kadmy

Cars may be washed with high pressure sprayers during a car wash.

By: Halfpoint

It's rare to find car washing businesses that clean by hand, but it's still common for fund-raising events.