Is a down Payment Required to Buy a Car?
A down payment is not necessarily required to buy a car. Depending on individual credit history, trade-in value or negotiated purchase price, the dealer and lender may be willing to secure a transaction without any money down. Car leases and special promotions are additional ways to get a car without a down payment.
One of the ways to buy a car without a down payment is to negotiate a purchase price that results in a loan balance that is lower than the vehicle's expected market resale value. Rather than just accepting the sticker price the dealer has on the vehicle, do research ahead of time. Consult several websites and dealer sites to see what the vehicle's make and model year is going for on the market. A prospective buyer can also obtain purchase quotes from online vendors and look up the current expected sale value.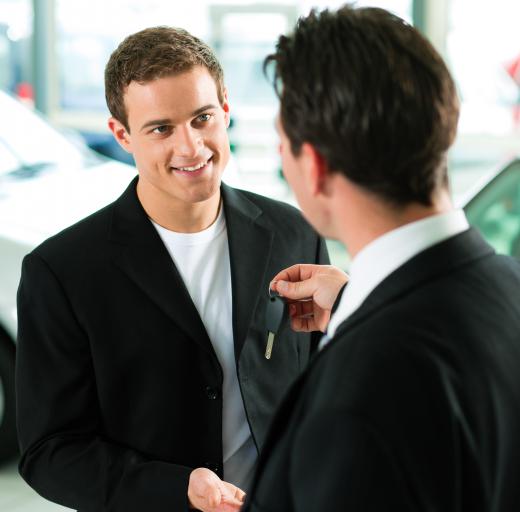 When the car loan amount is less than the market value, lenders are often willing to forgo a down payment since the loan will carry less risk. The amount of equity that the buyer will accumulate will protect the lender in case of loan default. When negotiating a lower purchase price, it is also important to make sure that the buyer has an acceptable credit rating and debt-to-income ratio.
Car purchasers who have an existing vehicle to trade in may be able to avoid a down payment. If the trade-in value is worth enough to substitute for the amount of an acceptable down payment on the vehicle being purchased, the purchaser can avoid spending any cash outright. Before going to a dealer, it is recommended that prospective buyers investigate the market resale value of their current vehicle.
During certain times of the year, car dealers and lenders offer sales and promotional offers that give buyers the option to buy new and used vehicles with zero money down. Certain credit restrictions typically apply since buyers usually must have a credit rating in the top tier. Those with an excellent credit rating may be able to negotiate a no down payment loan during other times of the year. The best chance is at the end of the year when dealers are attempting to liquidate the current year's models to make room for next year's incoming inventory.
While purchases of a vehicle are more likely to require a down payment, lease agreements may give buyers the flexibility to obtain a car with zero down. Known as a capital cost reduction, upfront payments reduce the amount that the buyer will end up paying on a monthly basis. Leasing a car is only recommended for certain types of buyers, but it can be a way to increase or maintain liquidity in a monthly budget.
AS FEATURED ON:
AS FEATURED ON:






By: Kzenon

A person buying a car.

By: auremar

A man buying a car.