How do I Choose the Best Sport Fishing Boat?
When choosing a type of sport fishing boat, shoppers often seek one that combines the attributes of a pleasure speed boat with those of a fishing boat. The trick in purchasing a sport fishing boat is to get the version that best suits the needs of the user. If the purpose of the sport fishing boat is to provide a family fun boat that can also be used to fish, a boat with attributes of a speed boat may be the best choice. If the purpose is to obtain a fishing boat that can occasionally be used as a family fun boat, a boat with more of the fishing-type amenities such as a trolling motor and fish locator may be best.
One of the main differences in a fishing boat and a family fun boat lies in the design of the hull. In order to choose the best sport fishing boat, the hull design is meant to sit slightly higher in the water than a dedicated fishing boat, but lower than a common speed boat. The purpose for a lower hull is to aid the fishermen in hauling fish into the boat. A high hull design would necessitate hoisting the fish higher in the air to get them into the boat. Subsequently, a low hull design in a sport or speed boat would not allow the boat to carry as many passengers or to corner as sharply without taking in water.
Another key difference in speed boats and fishing boats where the better sport fishing boat designs make certain concessions is in the motor. A speed boat typically uses a very large motor to produce high speed and torque required to pull skiers and water toys. The fishing boat requires a smaller motor to allow the boat to be used for trolling at slow speeds. A good sport fishing boat will often be powered by a medium-sized motor in order to provide the operator with the best of both worlds. Propeller design will usually lean towards powerful take-offs to get a skier quickly up on plane as well as offer a moderate top cruising speed.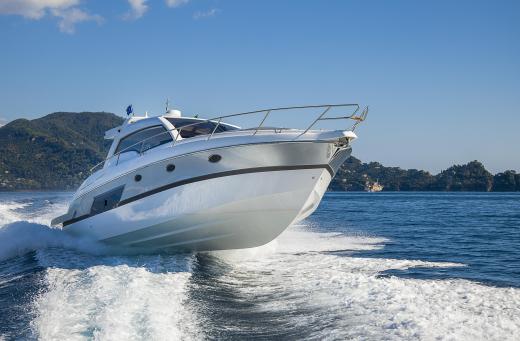 When purchasing the best sport fishing boat, seating arrangements should include plenty of availability around the perimeter of the boat for passengers. Typically, removable fishing pedestal seats are easily positioned for fishing adventurers. The top sport fishing boat packages will often include a stereo system. This system can be used when spending a playful day on the water with family and friends. The radio may, however, be deemed a distraction when fishing and can be turned off.
AS FEATURED ON:
AS FEATURED ON:






By: Witold Krasowski

An Atlantic salmon.

By: andreamuscatello

Sport fishing boats often have the luxury and speed of a pleasure boat.

By: JackF

The best sport fishing boat will have a propeller designed for powerful take-offs.