What is Four Wheel Steering?
Four wheel steering is a mechanism in cars, trucks, and trailers that enables all four wheels to actually turn and rotate in response to driver commands. This is markedly different from most standard car manufacturing, which focuses only on the two front wheels. Under these more common systems the rear wheels are fixed and follow the directional lead of the others. All-wheel steering systems can make the driving experience more responsive and can help drivers make tighter turns and faster maneuvers. Having all four wheels move together can be difficult to coordinate from a mechanical perspective, though, and errors are more likely. In most cases these sorts of steering systems have to be controlled by a computer to allow for accuracy and precision. They are more common in racing vehicles than standard cars, but as the technology becomes less expensive and more user-friendly this may change.
Relationship to Drive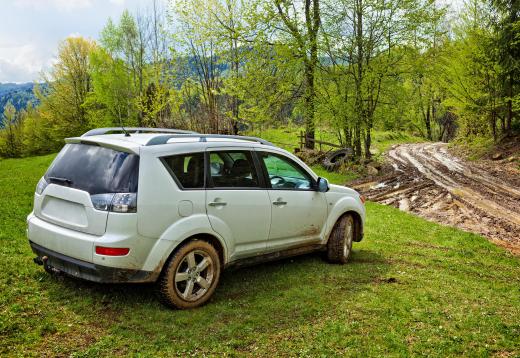 It's important to note here that a car with all-wheel steering is really different from a car with all-wheel drive. Steering relates to whether the wheels actually pivot to get a car around a corner or across a diagonal plane. Drive, on the other hand, concerns how the wheels are powered and whether they have independent tractable energy.
Comparing Standard Systems
In standard two wheel steering vehicles, the rear set of wheels are always directed forward and do not play an active role in controlling the steering. As such, the steering column — which is attached to the steering wheel and responds to driver commands — typically controls only the front two wheels. When these wheels turn they propel the vehicle forward or backward, carrying the weight of the car through momentum.
In four wheel steering systems, the rear wheels can turn left and right also. This can improve the response time of tight turns. It's more complicated from a mechanical perspective since the rear wheels must also be connected to the steering column, but has a number of benefits when it comes to actual driving efficiency and mechanical optimization.
Importance of Computer Controls
Technically speaking, a vehicle could be configured such that the rear wheels would be connected with a manual system that would require the driver's power to operate, but this is often seen as impractical. A system like this lacks accuracy, for one thing, and is prone to user error; it is also more cumbersome to operate. In modern vehicles, to keep the driving controls as simple as possible, a computer is almost always used to control the rear wheels. The computer sends and receives signals from the steering column and directs activities accordingly.
Fundamental Processes
Most computer systems control the rear wheels using a number of "fundamental processes" or operations, including the following:
At slow speeds, the rear wheels are turned in the opposite direction of the front wheels. This can lessen the turning radius by approximately 20%.


At faster speeds on the highway, the rear wheels are turned in the same direction as the front wheels. This improves lane changing maneuverability and is particularly beneficial for vehicles towing a trailer.
Possible Drawbacks
Some of the earliest all-wheel steering systems entered the mainstream marketplace in the 1980s, but they were not as popular as most manufacturers had hoped. There were a couple of reasons for this, but the complex mechanics that are necessarily involved is widely believed to have been a serious contributing factor. The handling and driver requirements left a lot to be desired for many, too.
Modern computer technology has minimized a lot of these issues, but cost can still be a factor. It's usually very expensive to engineer all-wheel driving, and cars that aren't custom ordered to include it can't always be retrofitted. Most of the vehicles being made with all-wheel handling capabilities are those designed for performance settings, particularly in auto racing. As the technology becomes more mainstream, though, this feature may become more common in standard passenger vehicles, too.


By: Brad Sauter

Four wheel steering is a new type of technology that's available in cars, trucks, and trailers.

By: xalanx

People who often need to drive through difficult or slippery terrain may consider a vehicle will four wheel steering.

By: peshkova

Four wheel steering is a relatively new technology.

By: wellphoto

Four-wheel steering allows the driver to turn both the front and rear tires while steering.