Alcantara® is a composite material made of a combination of primarily polyester and polyurethane. It is made via an integrated spinning, textile, and chemical process. The material is frequently used for seat coverings and for the soft interior surfaces of cars such as the sides of doors and the dash. It is especially popular in luxury cars. This suede-like material can also be used for creating clothing, jewelry, and helmets.
A Japanese scientist named Miyoshi Okamoto created Alcantara®. He first formulated it in the early 1970s while he was employed by Toray Industries. It was meant to be a new form of imitation luxury leather to complement similar products offered by the company. The material falls into the microfiber or microsuede category with products such as Escaine® and Ultra Suede™.
Alcantara® got its name when the Italian manufacturing company ENI joined in partnership with Toray Industries to produce the material. The joint company, known as Alcantara SpA, was founded in 1972. The company has expanded its offerings over the years and the material can now be made with an infinite variety of textures, patterns, and colors. Due to increased interest in the material for home furnishings and clothing, there have been increasingly more varieties available.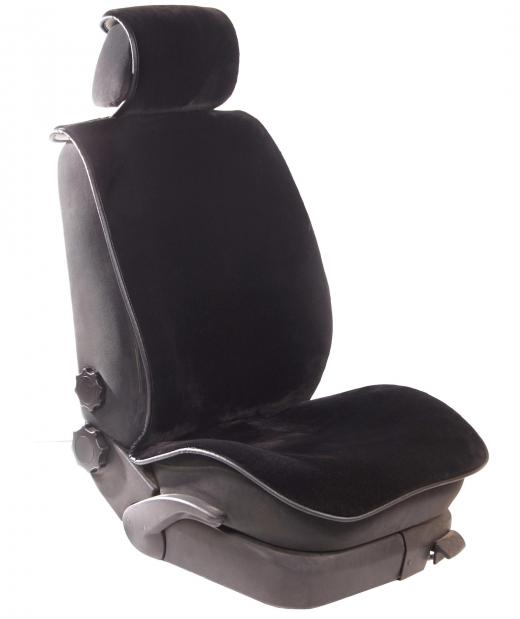 Though it can easily sustain superficial damage, Alcantara® is desirable for many manufacturers and consumers because of its durability. This makes it particularly well-suited for sitting surfaces and car interiors, as it can handle heavy daily use while still appearing luxurious. It has even been deemed sturdy enough to use in seats for race cars. Alcantara®'s synthetic content also makes it resistant to staining.
The material can also reportedly be produced with sustainable methods. After submitting itself to a lengthy, voluntary examination of the manufacturing process, the company was awarded with carbon neutral certification. The company claims to be dedicated to maintaining no carbon dioxide emissions while producing the product.
Alcantara® can often be easily scratched and it is important to take care in maintaining the material. Gentle cleaning with a clean, soft brush or cloth is usually sufficient for regular upkeep. Vacuuming on a low setting or using light application of a lint brush or roller can help with more stubborn dirt and debris.
If it is necessary to wet Alcantara® in order to clean it, a damp sponge, wet only with water, is typically best for the material. For stubborn stains, only cleaning products specifically formulated for the material should be used. Other cleaners, such as those for real leather, can cause permanent damage.
AS FEATURED ON:
AS FEATURED ON:






By: humbak

Using a lint roller can effectively remove debris from Alcantara®.

By: monstersparrow

Alcantara may be used for seat coverings.