A train horn is a device that is mounted to various types of trains and used for warning surrounding people and vehicles of a train's approach. The train horn is most often heard at railroad crossings; specific patterns of actuating the horn have been developed to indicate different situations on board the train. Diesel locomotives must have a train horn mounted to them for these and other purposes. In the past, steam engines used whistles activated by the steam produced in the locomotive, but since diesel engines produce no steam, air horns are used that draw from a central air reservoir on board the train.
A diesel locomotive will often feature a train horn with several bells, or amplification tubes, that can make the sound from the horn heard several hundred yards or even miles ahead. The noise is produced when highly pressured air passes through a diaphragm, or a plate with a small opening, creating the horn sound. That sound is then amplified through the bells of the horn. The sound of the train horn must be amplified very loudly to allow the noise to be heard by passers by and vehicles in the near vicinity of the train as well as people and vehicles well ahead of the quickly moving train.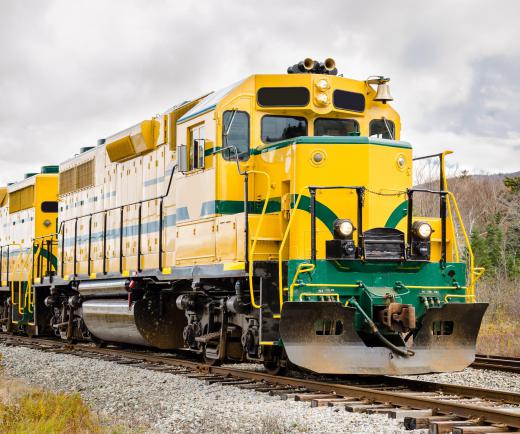 Railroad companies require the use of a train horn at all intersections as well as in other situations that may pose danger to surrounding areas, and the horn is often used in conjunction with other safety features, such as railroad crossing warning devices. Such devices often include flashing lights, a gate that drops down before the train passes and blocks pedestrian and vehicle traffic from passing over the tracks, and in some cases, wayside horns that are fixed to posts at the intersection to provide yet another audible warning that a train is approaching.
The train horn can be activated by the engineer of the locomotive through several activation methods. Older train horns were activated by a pull chain that allowed the conductor to modify the volume and length of the horn blast. More modern diesel locomotives instead feature push buttons to activate the horn; these buttons do not allow the conductor to modify the volume of the blast, but he or she can still modify the length of the horn blast; this is a vital function because different blast lengths indicate different situations. A LONG, LONG, SHORT, LONG blast pattern, for example, indicates the train is approaching.
AS FEATURED ON:
AS FEATURED ON:






By: alpegor

Horns on the top of a diesel locomotive's cab are used to provide warning sounds in modern times.

By: ftfoxfoto

Train horns are used to alert pedestrians and vehicles that may be in the path of a train.