What Are the Best Tips for an Axle Conversion?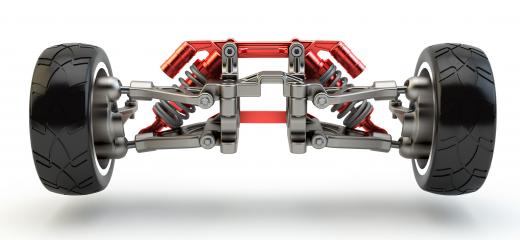 The most common axle conversion on a vehicle involves changing the location of the springs on the axle housing. Tips to ensure that the axle remains straight in the chassis run the gamut from taking accurate measurements to completing the axle conversion before removing the old axle mounts. These tips apply equally to the type of axle conversion that replaces an independent front suspension with a straight or live axle. Other tips that aid in the successful completion of any axle alteration involve having all welding completed by a certified welding professional. Any inferior weld could potentially result in the catastrophic failure of the conversion, and the resulting crash could prove to be fatal.
There are a number of reasons that a person might elect to perform an axle conversion on a vehicle. The two most common reasons behind an axle conversion are to alter the ride height of the vehicle either higher or lower through the use of a spring-flip kit, commonly known as a spring-over or spring-under axle conversion. The second reason is to eliminate a weak independent front suspension in a four-wheel drive truck with a stronger straight or solid-axle. A third reason for the conversion is to replicate an earlier suspension style on a period-correct vehicle restoration or build-up.
There are several things to do prior to completing the first step in any axle conversion. Taking detailed measurements of the vehicle's ride height, wheel base and track are the most critical steps in ensuring the drive-ability of the vehicle once the conversion has been completed. The first step in the conversion process is, however, leveling the vehicle. Unless the vehicle is leveled, any resulting measurements will be skewed and will not reflect the actual required measurements. Small steel washers and folded sheet metal can be used to create thin shims to accurately level a vehicle when small increment changes are required in the vehicle's height.
Proper chassis preparation is also crucial to a successful axle conversion and the proper penetration of any resulting welds to the new components. By grinding away all traces of under-coating, paint and rust, the weld is able to dependably penetrate and bond the metal, creating a solid weld. Having a certified welding professional complete all finish welding will better the chances of having a safe suspension when the axle conversion is complete. Perhaps the best tip to anyone wishing to perform this type of conversion is to speak with someone who has previously completed a similar conversion and talk about any difficult and unforeseen problems.


By: Milos Stojiljkovic

The most common axle conversion on a vehicle involves changing the location of the springs on the axle housing.